A rocking chair is an amazing and relaxing piece of furniture that may be used in a variety of settings, including a nursery, a patio, a campsite, or even the sidelines of a soccer field. However, regardless of the environment, you should look for a rocking chair that is not only comfy but also sturdy.
Tips on Choosing the Perfect Rocking Chair
What Material Should Be
A rocking chair is a piece of furniture that serves multiple purposes and may be positioned in a variety of settings, including the front porch, the bedroom, the living room, and even the nursery. The material used for the rocking chair should be chosen with consideration for both the tastes of the owner and the setting in which the chair will be utilized. Rocking chairs crafted from old pine or oak are classics that will never go out of style and may be used wherever.
You have the option of selecting a rattan, wicker, or polypropylene rocking chair to furnish your vintage-inspired space. Rocking chairs covered in a variety of fabrics, ranging from linen to ultra-suede, are popular choices among consumers who are accustomed to sitting on modern furniture with comfortable padding.
Comfort is Important
Find a solid rocking chair that will allow you to gently rock back and forth while you read or feed the baby in front of the fireplace. In spite of the fact that there are some people who find rocking chairs made of raw wood, cane, or rattan to be particularly comfortable, many modern parents choose nursing chairs that are upholstered and have additional cushioning rather than rocking chairs made of these materials.
In addition, the perfect height and leg length for a rocking chair can vary greatly from one person to the next. Because of this, it is important to test out a variety of rocking chairs in person before settling on the one that is the most comfortable for you.
Which Type is Best
Rocking chairs have been popular since the 1700s, and during the course of the last century, designers have given us a broad array of rocking chair models from which to choose. A front porch or living room might benefit tremendously from the addition of a couple of elegant rocking chairs that either match or contrast with the current furnishings.
Good examples include the traditional Shaker design, the Danish modern style, the bentwood cane-back Thonet, the Adirondack style, the rocking chairs designed by Charles and Ray Eames from the mid-20th century, and the modern upholstered rocking chairs and gliders.
In addition to the rocking motion that is traditionally associated with rocking chairs, manufacturers have been adding a variety of other sorts of motion systems for many years. The modern furniture industry offers a large selection of rocking chairs, including gliders, spring chairs, and swivel chairs, amongst others. Rocking chairs come in a wide variety of styles, some of which even offer reclining options.
1. Baxton Studio Yashiya Mid Century Retro Modern Fabric Upholstered Rocking Chair
Baxton Studio's rocking chair is suited for modern living rooms, not playrooms or dollhouses. One reviewer was "surprised it was so well-made at this cheap" and liked that it "fits well with our West Elm and Restoration Hardware furniture at a quarter of the price. It completes our daughter's mid-century modern nursery" and is "reasonably priced, stylish, and uncomplicated," writes another.
Another parent bought it because she "wanted a chair he could use throughout his life" and raves about its beauty and durability: "This one is a wonderful quality." The price seems fair given the good quality, even if it only lasts a few years. Smooth swaying and luxurious cushioning are pleasant.
2. POLYWOOD R100GR Presidential Rocking Chair
This wooden-looking rocking rocker is made of weatherproof Polywood. Customers don't think this affects the chair's quality or appearance. Many say that makes it better. Previous wooden rockers "discolored and mildewed, and one of the rocker blades fell under a powerful acquaintance's weight," wrote one reviewer."
They chose Polywood rocking chairs for durability and strength because they are well-made and heavier than wooden ones. " These robust seats are also comfortable. Another raving customer: "Our home and lifestyle suit them. We sought and expected them." They claim it's not disappointing to start the day on my balcony with coffee and paper.
3. Soto Rocking Chair
The Soto Rocker is functional and stylish. This rocker combines traditional and modern design elements. It has a coated, reinforced wood frame to prevent warping. Our chemical-free, flame-retardant foam cushions are thick and soft. The Soto chair's smooth rocking motion prevents it from taking up too much space or hitting the wall.
Its slightly elevated perch is appropriate for ordinary or tall people. You can choose from 70 textiles to match your decor and lifestyle. There are pet-friendly, soft, and stain-resistant alternatives. This expensive seat can save you money by preventing repeated chair replacements.
4. CB2 Saic Quantam Rocking Chair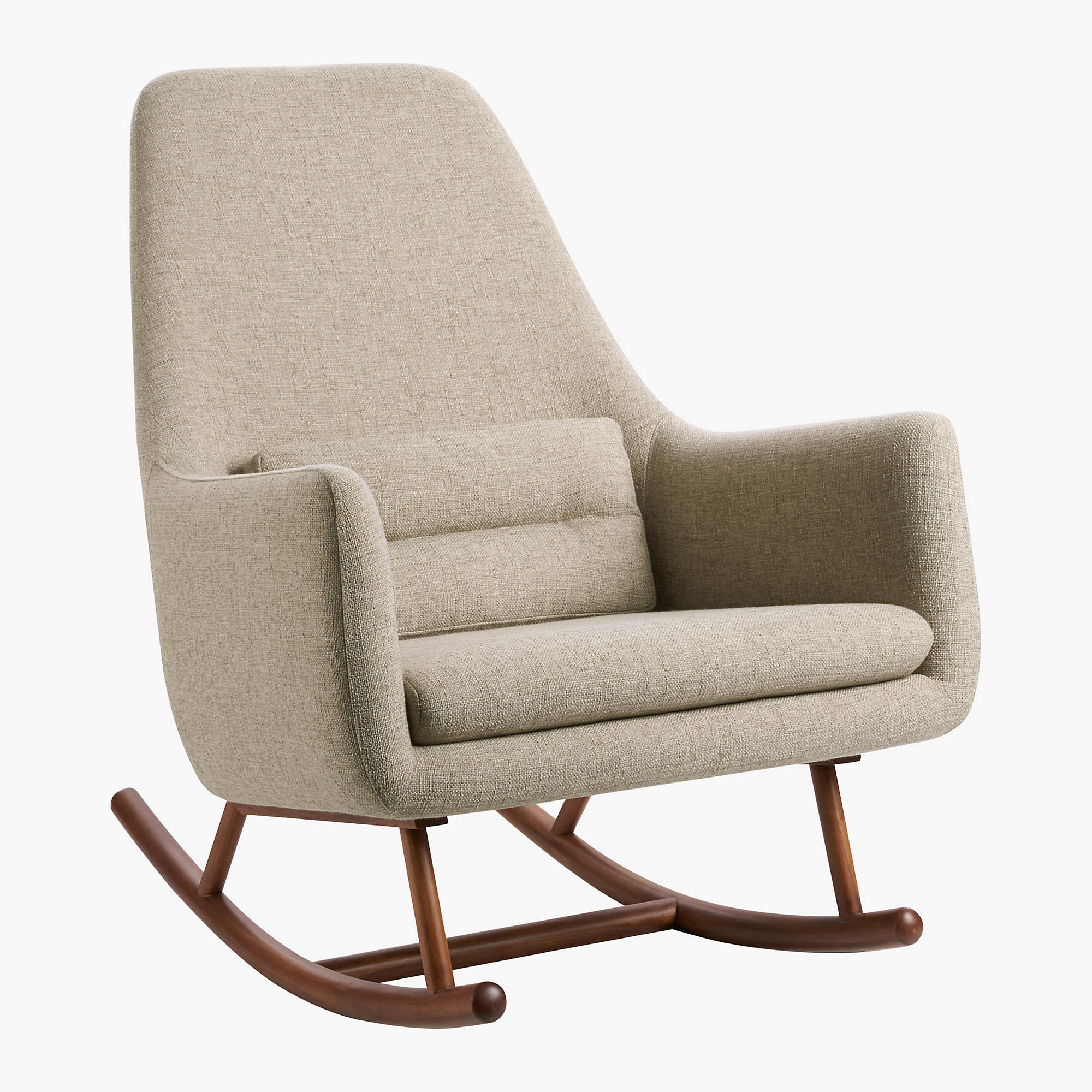 This beautiful rocking chair is as comfortable as it is stylish. A student at the School of the Art Institute of Chicago (SAIC) developed it to make users feel like they're floating over the chair's surface. Rest your weary body in this elegant chair and experience an immediate sense of calm.
Larch plywood is used for the chair's structure, while catalpa is used for the rocking base. The foam seat is encased in lovely fabric, with a range of hues and patterns from which to choose. This chair has a contemporary design that belies its high level of comfort.
5. Baby Relax Mikayla Swivel Gliding Recliner
When compared to a rocking rocker, the sensation that one gets from gliding in a glider is one of more calm and relaxation. The name of this chair gives away the fact that it travels back and forth along a track. In addition to its graceful gliding action, the Mikayla chair features a rotation mechanism, a reclining mechanism, and even a leg rest. This chair is comfortable for persons of all heights, but those who are taller will particularly appreciate the ergonomic design.
This glider, which has a squared-off form, can be purchased in a number of different colors. The chair's assembly needs very little physical labor. Despite the fact that reclining the chair and stowing the footrest may involve some effort on your part, the product has excellent quality.
6. Patchwork Rocking Chair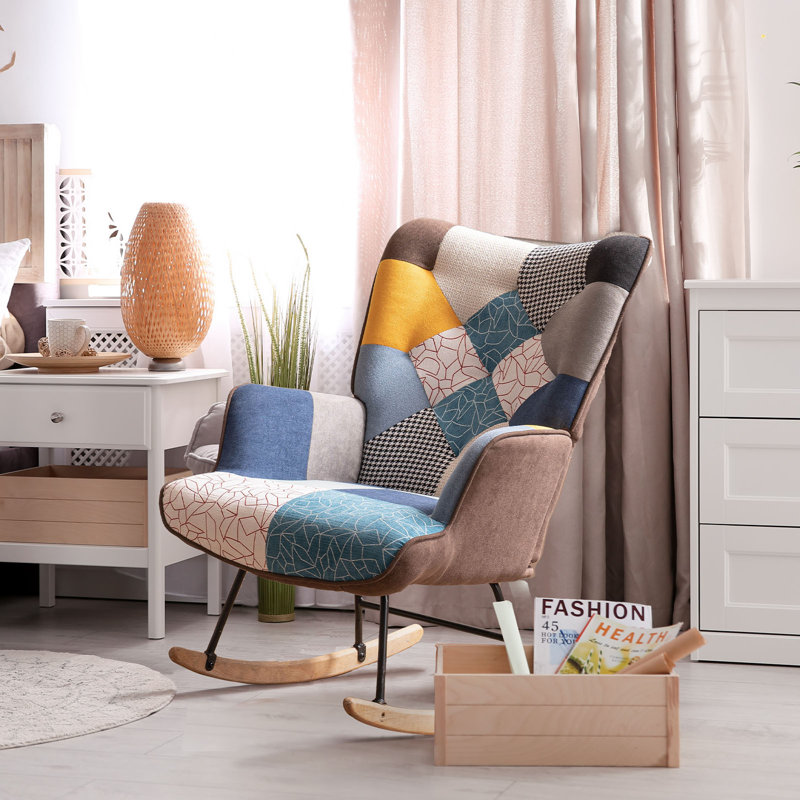 There is no activity more conducive to the formation of cherished childhood memories than a session of rocking in a plush nursery rocker. This sturdy rocking chair features an exquisite upholstery job done in patchwork fabric, and it is adorned with a plethora of accessories in a wide range of vivid hues.
This new addition to your living area, with its luxurious upholstery and sweeping lines, will allow you can kick back and relax in chic comfort. You can unwind by reading a captivating book, drinking some coffee, or going to bed early.
7. Vedika Rocking Chair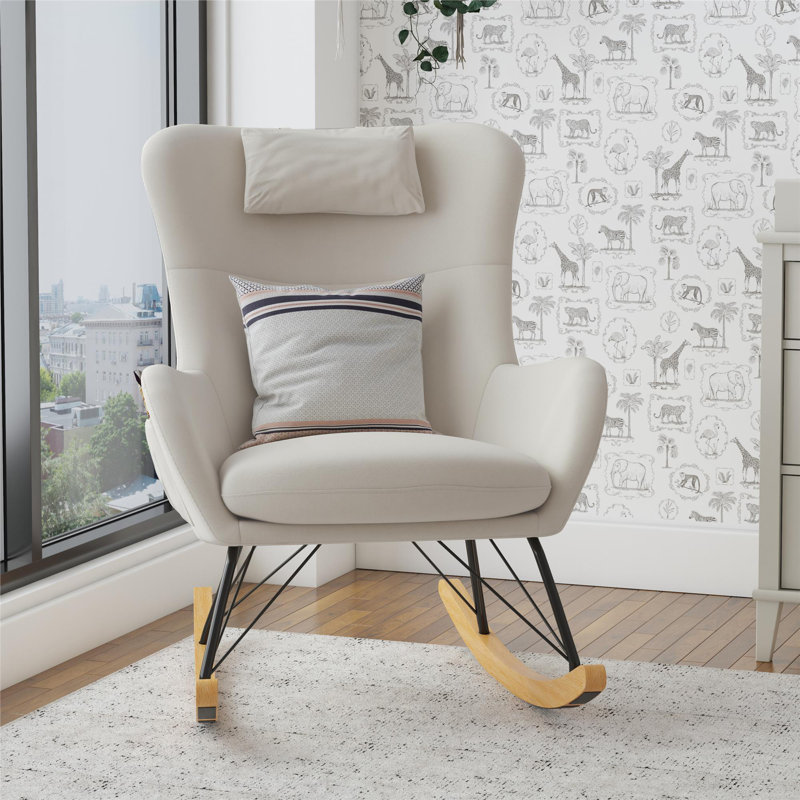 Rock your baby to sleep in the Vedika. This nursery chair is comfortable and stylish for nursing mothers. The Vedika is upholstered in strong yet silky linen that can be wiped clean. The chair is well-made and comfortable.
This comfortable chair features a padded headrest and a wide curved back that molds the user. Metal legs and an oak base make the rocker durable. You can store your baby's needs in the side pockets. The Vedika Rocker is a must-have for every modern baby's room.
8. Thatcher Tufted Rocking Chair with Walnut Wood Base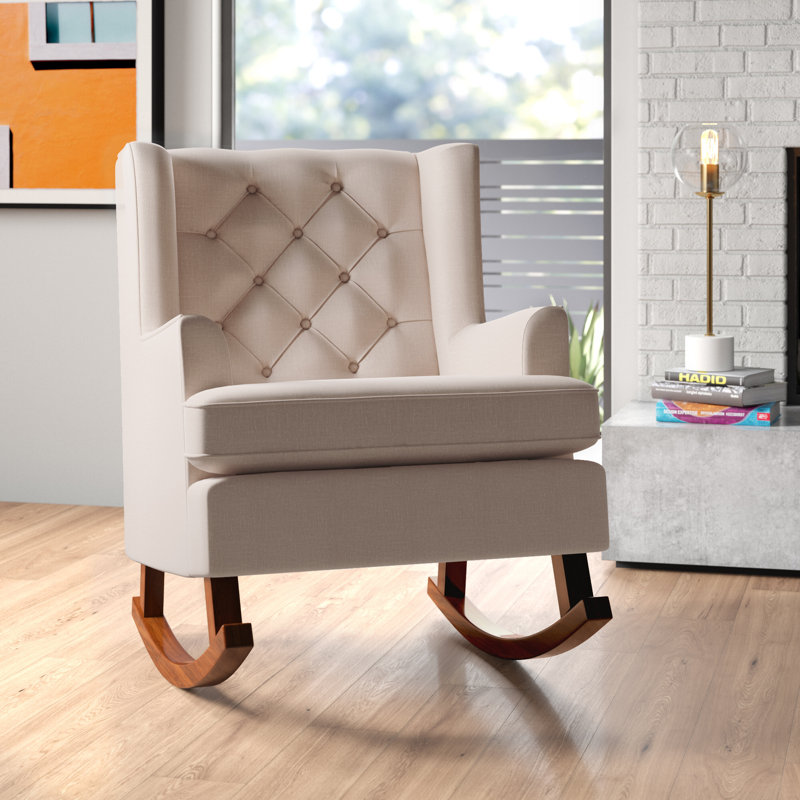 This rocking chair would look wonderful in a reading nook or a nursery, and it would assist you and your baby in dozing off to sleep. The legs are curved and finished in a dark walnut tone, and the overall design is very contemporary.
It is made of solid birch wood and has a very simple construction. You are welcome to rest your elbows in any of the two cutaway arms as you unwind. This chair has a casual appearance thanks to its button-tufted back, its foam-filled fabric upholstery, and its detachable seat (which is fastened with a hook-and-loop closure).
9. Himrod Double Rocking Chair (Set of 2)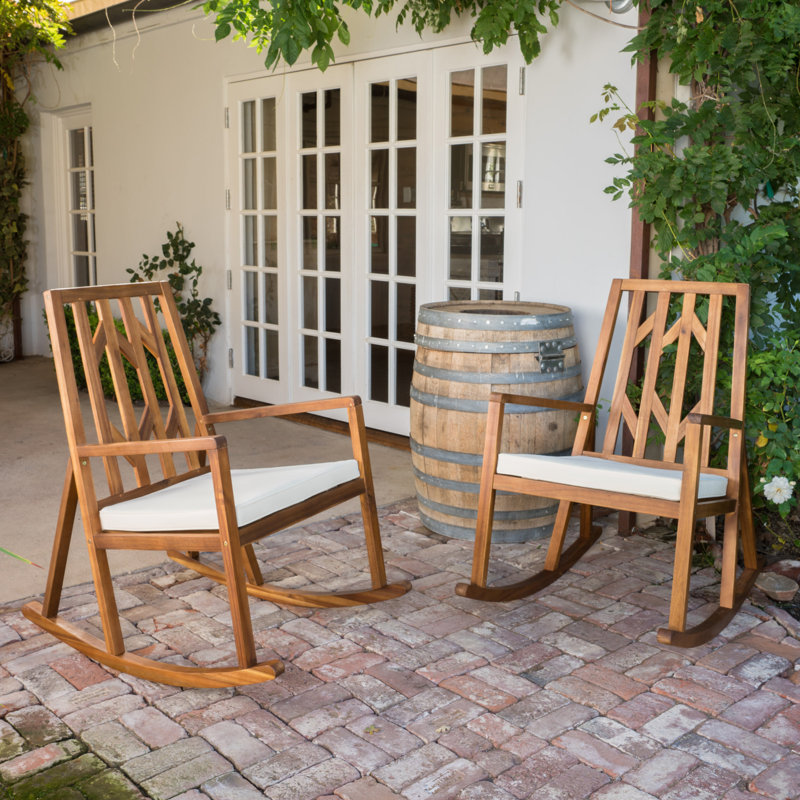 On any patio, these rocking chairs crafted from acacia wood would be a beautiful addition. The fact that the frame is made of acacia wood makes it not only long-lasting but also aesthetically beautiful, making it an excellent choice for usage in the great outdoors.
Your outdoor rocking chairs will have a much longer lifespan thanks to the fact that the cushions are made of a material that is resistant to water. This summer, if you want to spend more time in your backyard, these things will make wonderful additions to your patio and will encourage you to do so.
10. Albina Rocking Chair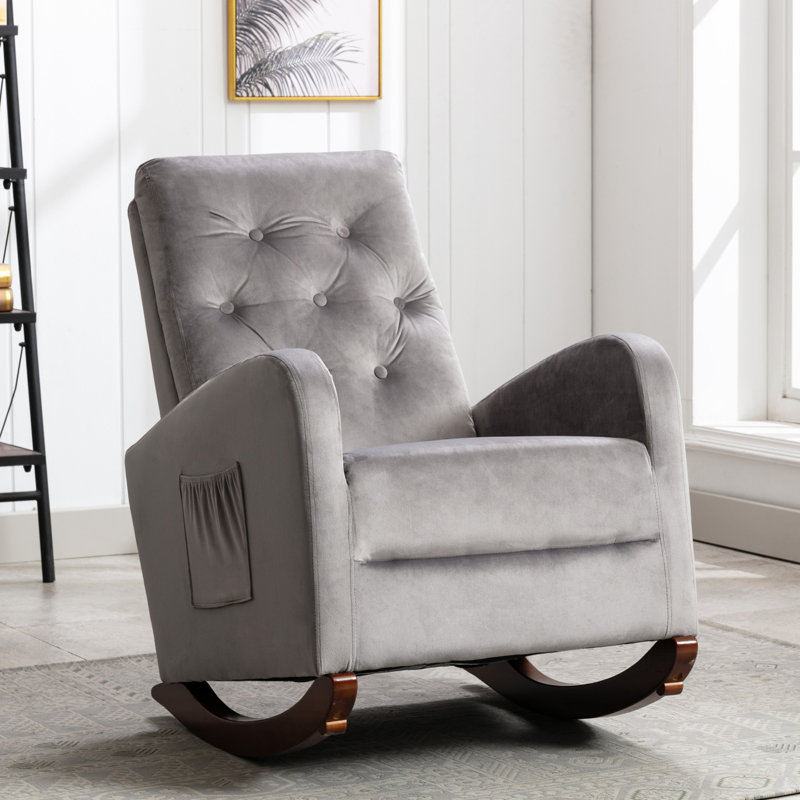 This rocking chair, with its styling that is reminiscent of the mid-century modern era and quality relaxation features, would be an excellent addition to any living space or nursery.
It has a high back and rounded arms, which encourage whoever sits in it to unwind and relax, and it is upholstered in velvet. It is created out of both genuine and imitation wood, and it is supported by a rocker.
Frequently Ask Question
Do rocking chairs improve posture?
Legend says John F. Kennedy used a rocking chair to relieve his chronically aching back. Rocking chairs improve the health of veterans and dementia patients, although proof that they improve posture is anecdotal. Moving our bodies when seated improves blood flow, relieves tension in the neck, back, and shoulders, and promotes good posture.
In what sort of space is a rocking chair most comfortable?
Rocking a chair causes it to move. Give your rocking chair plenty of space so it doesn't get snagged or smashed into anything. Allow at least 3 feet on both sides of the rocking chair (the exact amount may vary based on the width and height of the chair in question).
Could a rocking chair be used on the carpet?
Insufficient contact between the chair's rockers and the floor might cause "walking." This is achievable on hardwood or carpet. With the correct amount of friction, some rocking chairs work well on low-pile carpet. A rocking chair on plush carpet may cause too much friction and get trapped.
If you had to choose one, what would you use to make a rocking chair out of?
Oak, maple, walnut, or cedar outdoor rocking chairs are similarly durable. Even if the rocker isn't exposed to rain or snow, mold and mildew can destroy it in a damp, dark spot.
Can you tell me about the various designs of rocking chairs?
In order to facilitate your search for the ideal rocking chair, we have created a list of some of the most popular types that are currently on the market.
Antique rocking chair.
Combination rocking chair and glider.
Rocking chair that reclines and rocks, and it has springs.
Rotating rocker.
reclining chair with a rocking motion for added comfort.
What sort of prices might one anticipate paying for a rocking chair?
Rockers can occasionally be found for less than $200, though this is not very often. The price of the rocking chair will, of course, vary depending on the brand as well as the size that you choose. The first thing you should do before making any purchase is to establish a spending limit.
How heavy is a typical rocking chair?
Rocking chairs normally have a height that ranges from 37 to 45 inches, a width that ranges from 30 to 26 inches, and a depth that ranges from 32 to 37 inches. Depending on the type of material used, their weight could range anywhere from 15 to 45 kg.
How tall should a rocking chair normally be?
Is there a recommended height for someone to sit on a rocking chair? Take into consideration the height of the rocking chair as well. When it comes to the height of the seat, individuals who are shorter will want it reduced, whilst individuals who are taller will want it raised. The seat height of rocking chairs is normally somewhere between 16 and 17.5 inches.