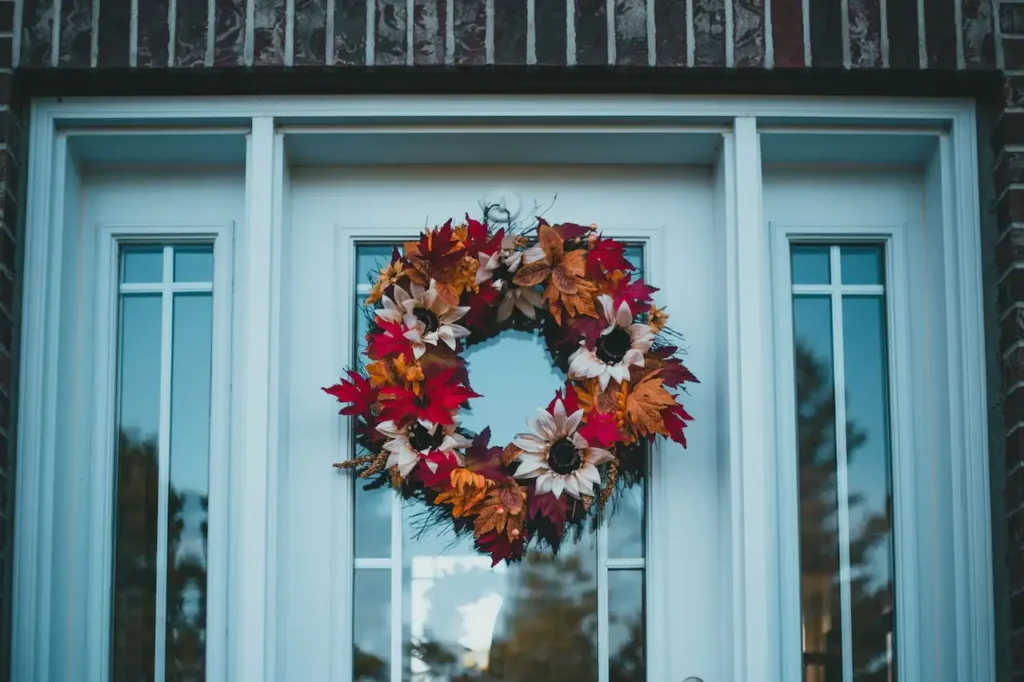 10 Easy and Beautiful DIY Fall Wreaths Ideas
You may use any of these 10 easy and imaginative DIY fall wreath ideas to greet guests all through the fall season, and in some cases, even longer.
1. Wood Bead and Dried Floral Wreath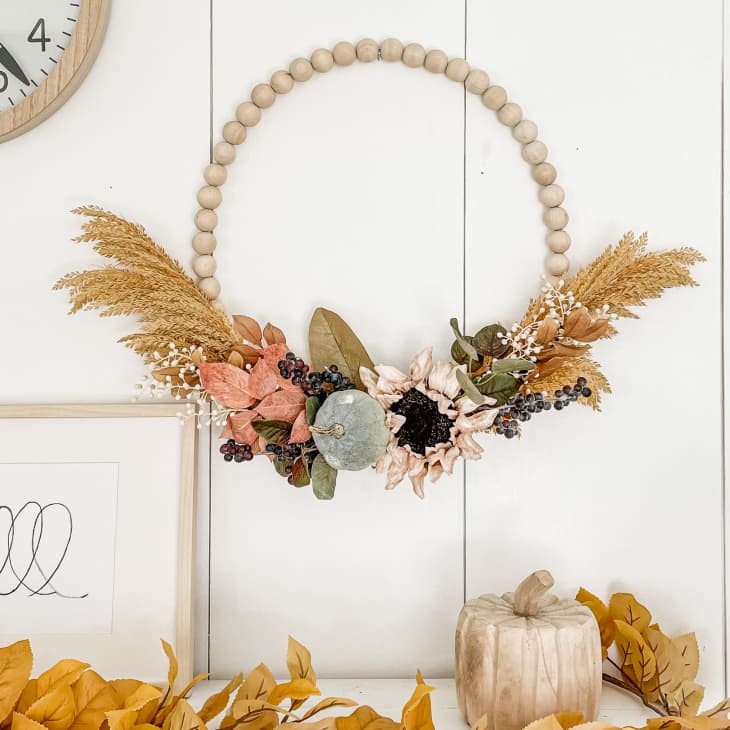 By experimenting with colour schemes and using a variety of frames, you can make a wreath that is just as one-of-a-kind as your own home. You may make the foundation of the wreath out of wood beads, and then you can top it up with dried flowers in light blue and pink to create a one-of-a-kind twist on the typical autumn wreaths.
Materials Needed for this DIY Pinecone Wreath:
15″ round embroidery hoop
2″ split wood beads
Faux fall flowers and any greenery of choice
Hot glue gun and glue
Wire
The process to Make:
First, wrap the embroidery hoop in a circle of split wood beads that have been secured with hot glue.
If you want to hide your artificial plants and flowers, simply trim the stems to an appropriate length.
Using hot glue, attach the fake wheat stalks to the rear and then begin stacking the leaves on top.
Be sure to attach any flowers you're using so they stand out. Use pumpkins to achieve an appearance that is appropriate for the autumn season.
Layers are essential for a complete and attractive appearance.
2. Feather Wreath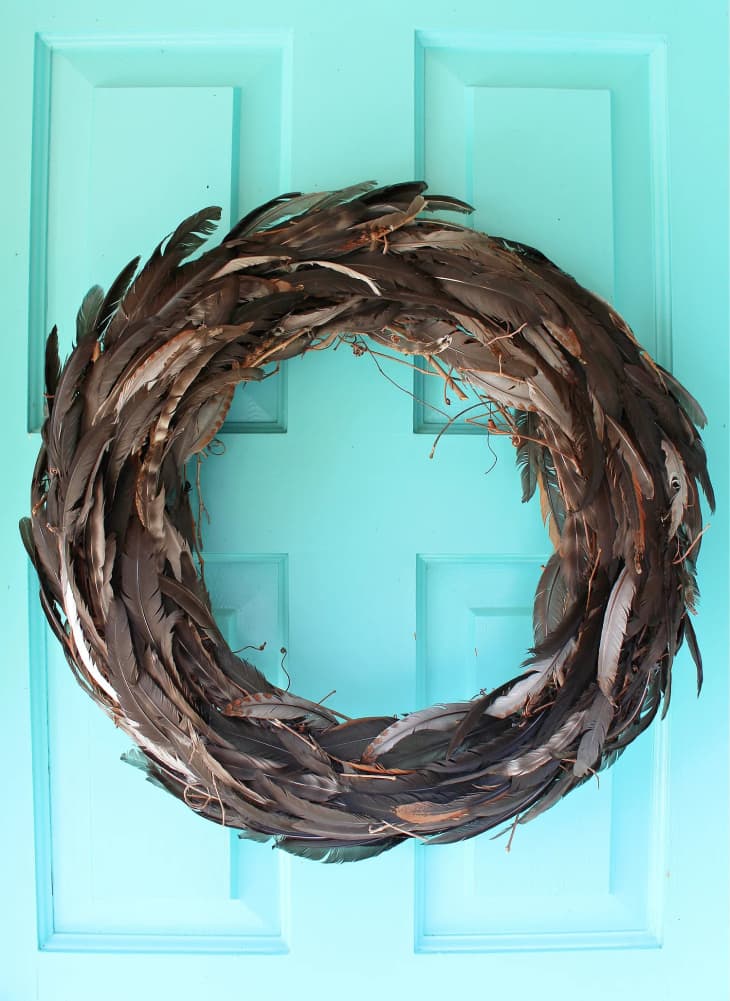 It took her two years to collect each and every feather from her chickens and use them to decorate this wreath, making it a labour of love in every sense of the word. The completed work is just stunning, featuring patterns and colours that are befitting of fall while still maintaining a muted and understated vibe. However, not everyone has access to their own chicken coop; if you want the same aesthetic without the henhouse, you can get feathers from tiny bird owners on Etsy who have obtained them in an ethical manner.
Materials Needed for this Wreath:
Feathers (ethically sourced, please!)
How To Make A DIY Feather Wreath:
If the feathers were collected by you, then you should wash them carefully since they may have excrement on them.
Soaked them in a sink full of water and dish soap. Give each a quick wash and dried it off on a towel.
Then, group the feathers according to the way in which their curves face. The ones with the right curves can be used for the wreath's primary upper side, while the others can be used for the wreath's outside edges.
You should also separate the feathers by colour if they come in a variety of shades so that you can create a harmonious palette.
3. Minimalist Dried Yarrow Wreath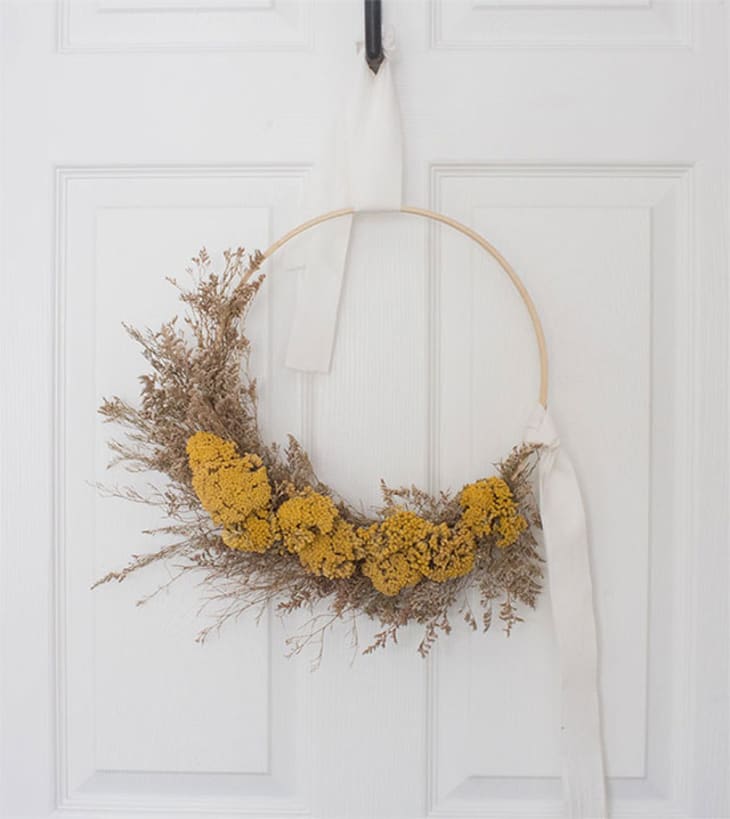 If you've never made a wreath before, give the rule of three a shot: Create a display that is simple yet eye-catching by utilizing three separate components that complement one another. What's the secret to making this work? Either a colour palette or a texture ought to be shared by the components, but not the two together. You might use a wreath that has yarrow, wheat grass, and ribbon in it; all of these elements go well together because they have warm neutral tones, but their textural differences provide some visual intrigue.
Materials Needed for this Wreath:
Dried Flowers (yarrow and wheat grasses)
How To Make This Wreath:
First, you'll need to use a fishing line to secure the dried flower fragments you've cut out to the embroidery hoop.
Instead of the florist's tape or wire, use a fishing line. The material is simple to manipulate and barely noticeable.
Remember that working with dried flowers might be a bit of a hassle. As soon as it's done, it'll appear everywhere.
A long white ribbon placed on one side adds a finishing touch.
4. Frame Wreath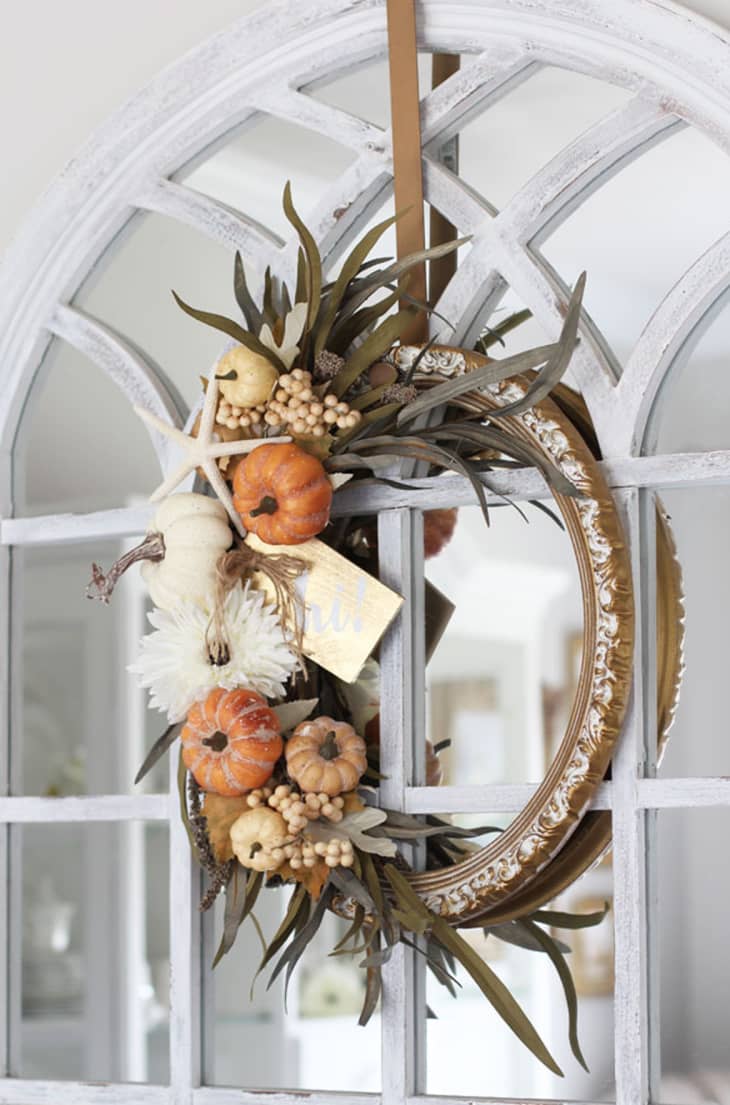 There is a wealth of do-it-yourself inspiration to be discovered in thrift shops. Christy, from the blog Confessions of a Serial DIYer, went to an auction and bought a one-of-a-kind frame for her autumnal wreath. This frame turned out to be the perfect backing for the wreath. To achieve this look, you should search for frames with a round or oval form. It would be unfortunate to pass up the opportunity to view the artwork that is housed in the framed displays.
How to Make This Wreath:
5. Pampas Grass Wreath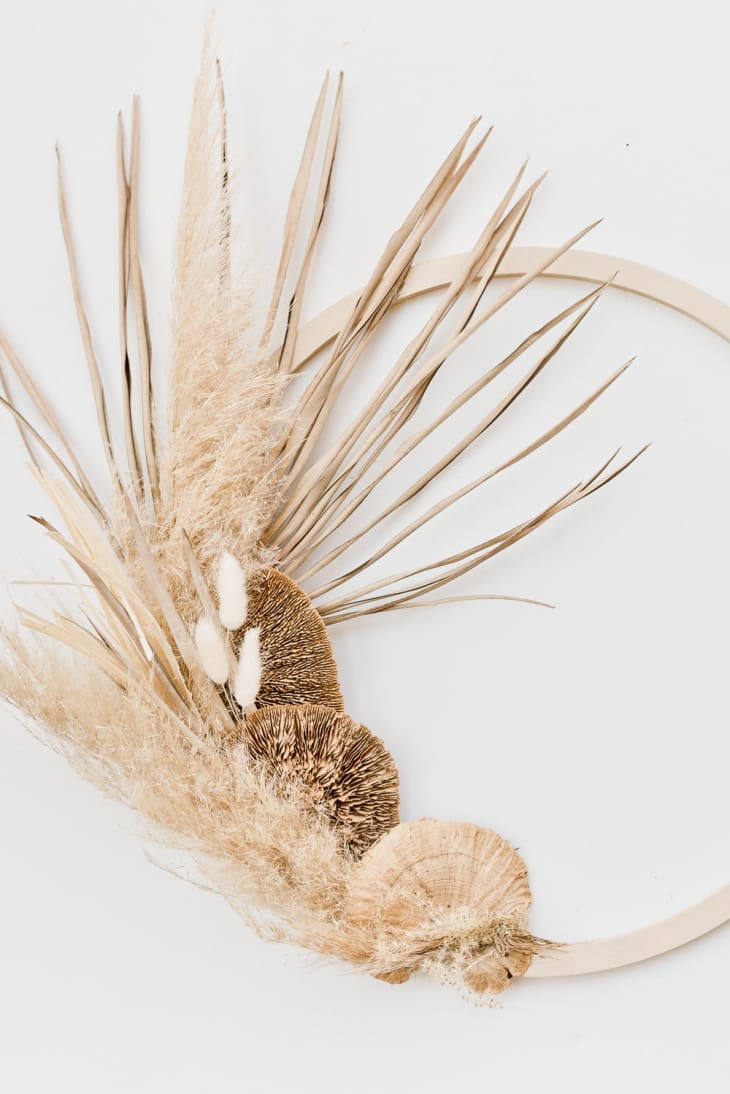 There are a variety of materials that can be used in place of conventional fall foliage to create stunning autumn wreaths. Brittni, from Paper & Stitch, creates a wreath that has a harvest-like feel to it by using pampas grass, bunny tail grass, dried palm leaves, and mushrooms. She took precautions to keep her tone-on-tone wreath from appearing too uniform by ensuring that its various components featured a sufficient amount of textural variety.
Materials Needed for Pampas Grass Wreath
floral craft rings in various sizes*
acrylic paint** and paintbrush
dried plants and florals
corn husks (optional)
hot glue gun and hot glue sticks
yarn (optional)
scissors
How To Make This Wreath:
Check out this post for a spet-by-step process.
6. Rustic Dried Grass Wreath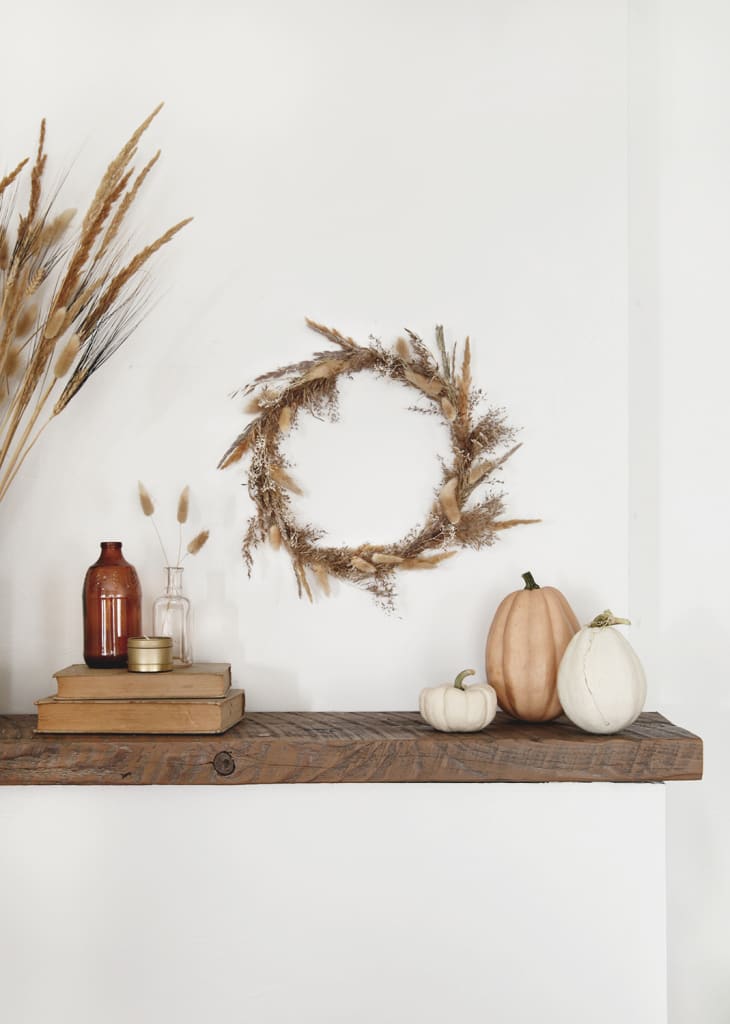 For the same purpose, dried grass can be utilized, and the result will have a more organic look and feel. Foraged botanicals, such as bunny tails, stardust gypsum, wheat bunches, and a variety of other items, are carefully arranged by Manda from The Merrythought into a complete circle. It is recommended that you use either a foam or wire foundation in order to achieve a flawless circle.
Materials Needed for Rustic Dried Grass Wreath
dried grass/floral stems
floral hoop
floral wire
hot glue gun
scissors
7. Gilded Leaves Wreath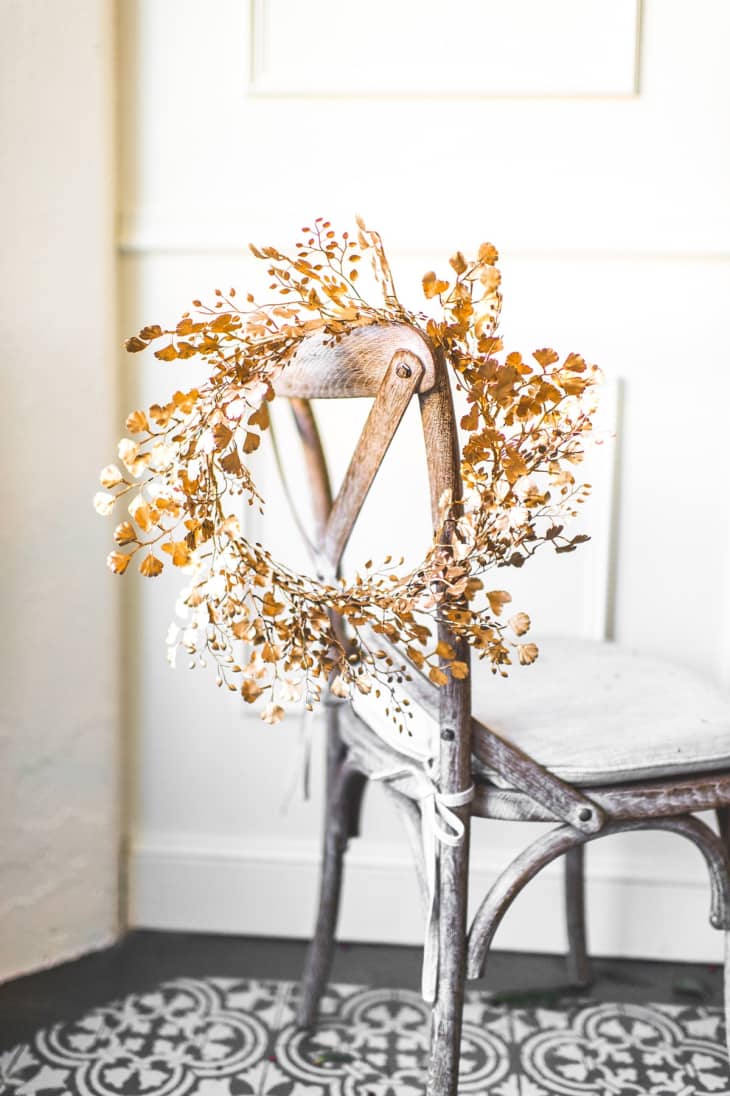 Sugar & Cloth was inspired to create this gilded leaf wreath by Dresden wreaths, which are traditionally made with brass figurines formed into a circle and hung on a door or wall. For those who would like to continue the motif throughout their home, there is also an instructional guide on how to build a matching garland included in the package.
Materials Needed for Gilded Leaves Wreath
Maidenhair Fern leaves
Mini leaf plastic bunch
Gold spray paint
Scissors
Respirator
How to Make This Wreath
Make 34 sets of leaves and 34 wire pieces that are 2.5 inches long. Wrap floral tape across wire stems and attach leaves.
The floral tape will stick if gently stretched while wrapping and warmed with your fingers.
To get 34 sets of leaves, carry on. Wrap flowery tape around the metal ring.
It will be much simpler to adhere to the leaf pairs if you use floral tape as a base layer.
Roll a couple of leaves around the ring. Stick a floral tape dot on the ring and then tape the leaf pair on the dot.
As you go around, switch leaf types. Bend the wreath's leaves to spray paint all surfaces.
Metallic spray paint releases harmful fumes and should only be used outside with a respirator.
Dry leaves can be bent to conceal the inner ring. First, cut a 5-foot piece of wire, form a loop at each end, and then wrap it in flowery tape to construct a garland.
Attach leaves to the wire with floral tape. We used 38 Maidenhair fern leaves.
8. Rattan Wreath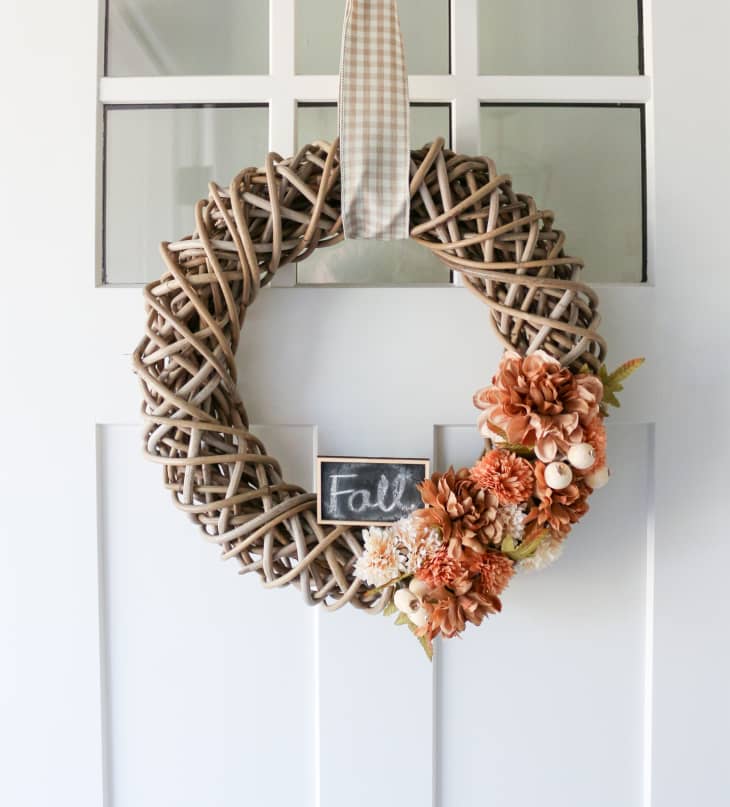 In spite of the fact that they are equivalent to grapevine wreaths, rattan wreaths are more tightly woven, which means that you might be able to get away with using fewer flowers to obtain the same lush look. If you combine floral embellishments with gingham ribbon and a simple blackboard sign, you can make a lovely new item for the doorstep in almost no time at all.
How to Make Rattan Wreath
Get started with a grapevine or rattan wreath. Pick a colour palette.
Consider your colour palette while choosing artificial flowers.
In order to tuck the wreath into place, leave a short length of the artificial stem exposed after cutting the flowers.
Decorate the wreath with flowers; there's no incorrect way to do it.
Place the flowers where you can and pull out the glue gun to fix any that seem flimsy.
Personalize your autumn wreath by hanging a funny sign on it. Hang your wreath with pride by giving it a decorative ribbon.
Hang your wreath wherever you like using a decorative hook that is easy to remove.
9. Corn Wreath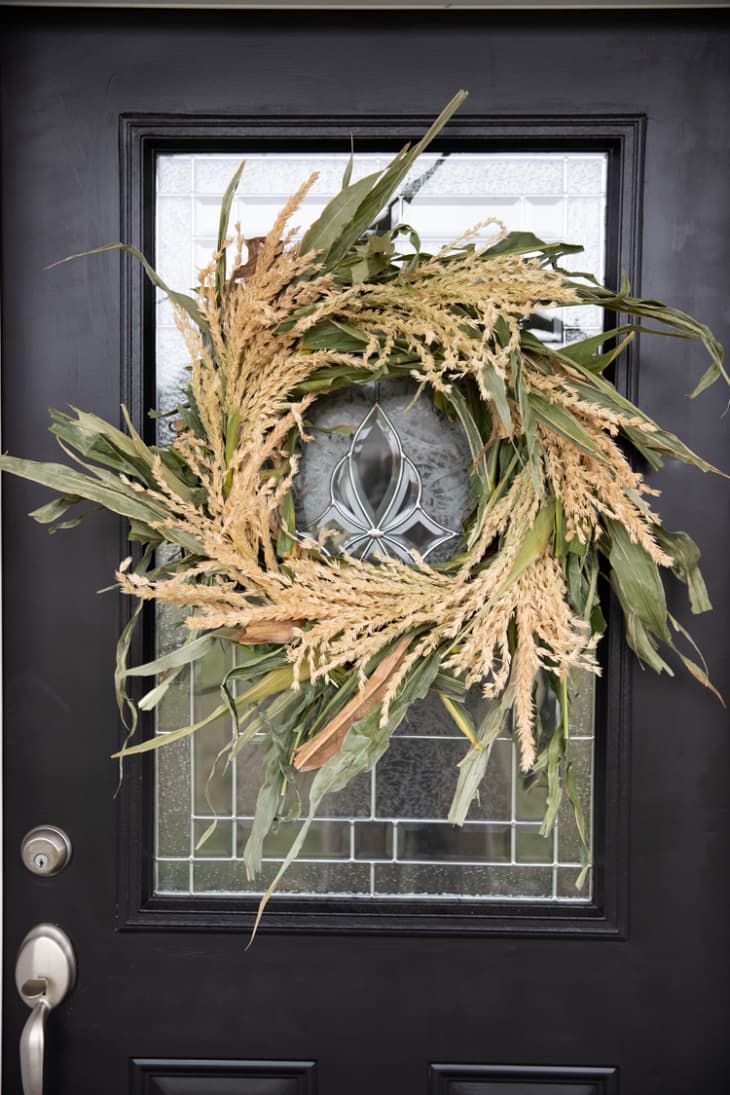 What you see there is corn, not wheat. Look closely. Layers of fresh cornstalks were used by Delia of Delia Creates to give her front entrance a makeover that is both traditional and whimsical. The nicest thing about it is that it can be manufactured rapidly and without much effort, that it endures over the full year, and that it can be composted at the end of the calendar year.
Materials Needed for Corn Wreath
About 6 corn stalks 
Scissors or pruners
paddle floral wire
grapevine wreath*
wire cutters
How to Make Corn Wreath
Remove the corn's leaves. Remove moldy leaves and cobs. Cut tassels 4 inches below the fringe to remove.
Some leaves may need to be halved since they're too long. Gather 1/2-to-1-inch bunches.
Secure the grapevine wreath with florist wire.
Wrap floral wire twice around the bundle's base. No wire cutting! Wrap each bundle with one long wire.
Add another bundle over the first's bottom and attach it with wire. Continue around the wreath.
When you reach the first bundle, lift the top and tuck the bottom under it. This creates a seamless wreath.
Insert corn tassels evenly using existing wire wrappings.
Finally! Fluff or trim the wreath and hang it on your door. Rotate the wreath if it's unmanageable. Turning the wreath might help the tassels and leaves lay flat.
10. Fallen Leaves Wreath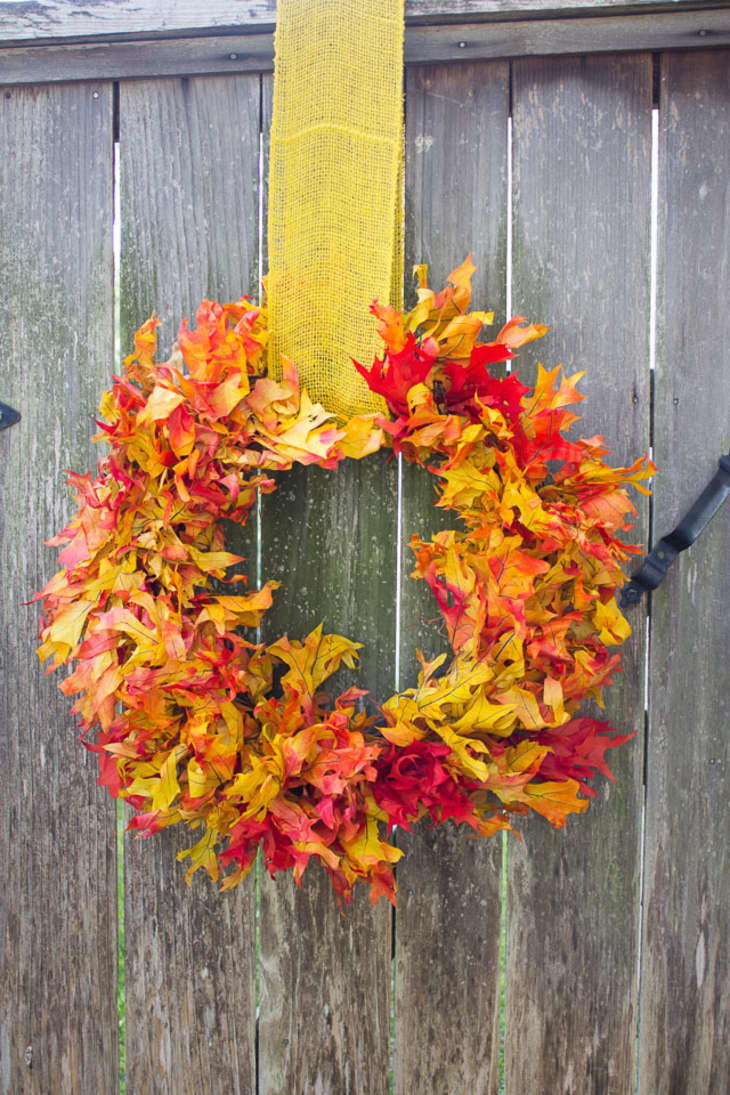 The reason why classics have endured the test of time is that they can always be relied upon. This wreath, which is also a creation of Design Improvised, is made up completely of fallen leaves in a wide range of vivid colours. A spectacular exhibit that allows nature to do the talking is created using oak leaves that have been preserved and painted in vibrant colours of red, orange, and yellow.
Materials Needed for Corn Wreath
Preserved oak leaves
Grapevine wreath form
Scissors
Hot glue (optional)
How to Make Fallen Leaves Wreath
The large branch of preserved leaves can be cut into smaller pieces.
You need a short branch with leaves no more than an inch or so in diameter. There are instances when the leaves are all mashed together.
You can unroll the leaves with your fingers as needed.
Put a leafy sprig from a tiny branch in the center of your wreath. It will hold together securely without any additional adhesive, but if you want to be sure, use a small amount of hot glue.
Add more leaves as you go around the wreath's circumference.
When finished, string a bow across the wreath's top.