Are you searching for dog training near me or in Houston city? Check out these 6 best and popular dog trainers in Houston which is picked by their popularity and overall best rating by their customers.
If you want to see top best dog training in your area then enter your area zip code down below. After this action, you'll be able to see all the best dog training or trainers within your entered zip code.
1. Off-Leash K9 Training Houston

This is Houston #01 dog training company which is founded by Nick White, the head trainer at Off-Leash K9 Training. He was a U.S Marine and former U.S Secret Service. He currently has over 130+ dog training locations across the United States.
Off-Leash K9 Training of Houston TX is part of the highest-rated dog training business in the U.S with over 130 locations nation-wide.
Off-Leash K9 Training, LLC has 3 team member and all of them are professional and experienced in all types of dog breed training.
Now let's talk about their services. Services such as a 4-week program of basic obedience ($625), 2-week board & train ($2,495), 8-week program of basic + advance ($925).
2. Peace Love and Dogs
Peace Love Dogs is one of the best dog training centers which is located at 9619 Yupondale Dr, Houston. This dog training school's aim is to make every moment of training a learning opportunity for both you and your dog.
With the help of their unique programs and classes, their dog training methods give patience and consistency. Peace Love Dogs have 5 professional and certified trainers who will help you to train your dog.
Services offered by Peace Love Dogs are Dog Training, Boarding, and Grooming. visit the website for detailed information about the pricing of each service.
3. Longoriahaus Dog Training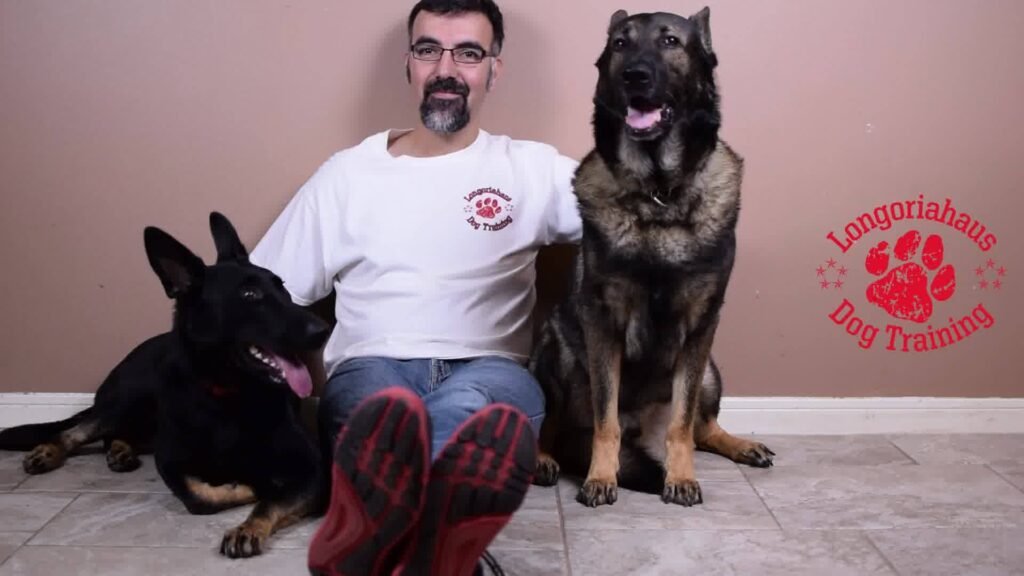 AI Longoria is the owner and only trainer at Longoriahaus Dog Training. He is helping Houston families to provide happy and reliable dogs since 2010.
Longoriahaus Dog Training helps Houston families raise a happy and reliable puppy and dogs by training through any unwanted behavior.
He provides unique training methods to each breed dog and their owners too. You can read their blogs where he shares useful information about dog training and behavior improvement tips.
Longoriahaus Dog Training company currently offering three different dog training classes (Basic $599, Basic Plus $699, Basic Premium $799.
They're also offering foundation lease walking ($399), Kingwood lease walking group classes ( $20/session), and IGP Foundations class – obedience and grip work ($799).
4. Believe in DOG Training
Believe in DOG Training is a Houston based dog training school which is located at 1029 W 26th St, Houston. Stephanie Bennett, CPDT-KSA, is known as one of Houston's top dog trainers and behavioral experts.
She is popular as the city's most contemporary dog education and enhancement entrepreneurs, helping to make a balance between mind, body, and spirit.
Including Stephanie Bennett, there are 3 more trainers and they all are expert and certified in the dog training.
Private training, online classes, puppy training, group classes, etc are the services that are offering by Believe in Dog Training company.
5. Beyond the Dog, LLC
This company is lead by Dr. Kristyn Echterling-Savage and Sean Savage, who are animal lovers as well as animal behavior experts.
Beyond the Dog and its pet experts offer professional, full-service puppy training, dog training, kitten training, cat training, and general pet training to their owners located all over the greater Houston area and beyond.
There are a total of 8 experts in Beyond the Dog, LLC and they have total locations (Houston, Austin, and Kansas City) in the U.S.
Visit their website or call them for detailed information about their locations, pricing, operating hours, serving area for each.
6. Club Canine
Club Canine is a Houston based dog training company that is founded by Dean Miller. This company is located at 4703 Rose St Houston. Dean started his journey of learning about dogs and he grew up in the family of dog training business in the early 1980s.
Now his extensive experience makes him a premier instructor in Houston city.
Club Canine team provides several services that support, and align with the Thinking Dog System and Philosophy. Services such as one-on-one working consultations, puppy development, behavioral rehabilitation classes, group classes, and ancillary services.
Visit this page to explore top dog training center in different cities of the United States