At a time of rising inflation, with gas costing more than $6 per gallon, Californians need a job more than ever to survive this period of economic uncertainty and support their families.
Unfortunately, millions of American workers are injured or killed on the job every year from couriers to construction workers. This resulted in financial losses of more than $160 billion in 2020. Of course, when workplace injuries are fatal, whether, from a slip and fall or workplace violence, no amount of money can ever make it right.
In California, the number of fatal workplace injuries has been on a steady increase. Between 2017 and 2020, the total number of workplace fatalities climbed by just over 23 percent. Even during the first year of the pandemic, workplace fatalities increased by 3% in California, while decreasing by 11% nationally with people working from home. California also had nearly half a million nonfatal accidents in 2020.
To better understand the risk of workplace injuries in California, which jobs are the most dangerous, and who is the most at-risk, the San Diego accident attorneys of Guy Levy Law conducted a thorough analysis of the most recent data from the U.S. Bureau of Labor Statistics and California Department of Industrial Relations.
Several Key findings in California
California ranked No. 2 with 463 workers fatally injured on the job in 2020, only Texas had more at 469.
Couriers and health care workers have the most dangerous jobs
Transportation accidents, slips, falls, and violence are the three leading causes of death.
Hispanic or Latino workers were the No. 1 most impacted race. Whites were No. 2.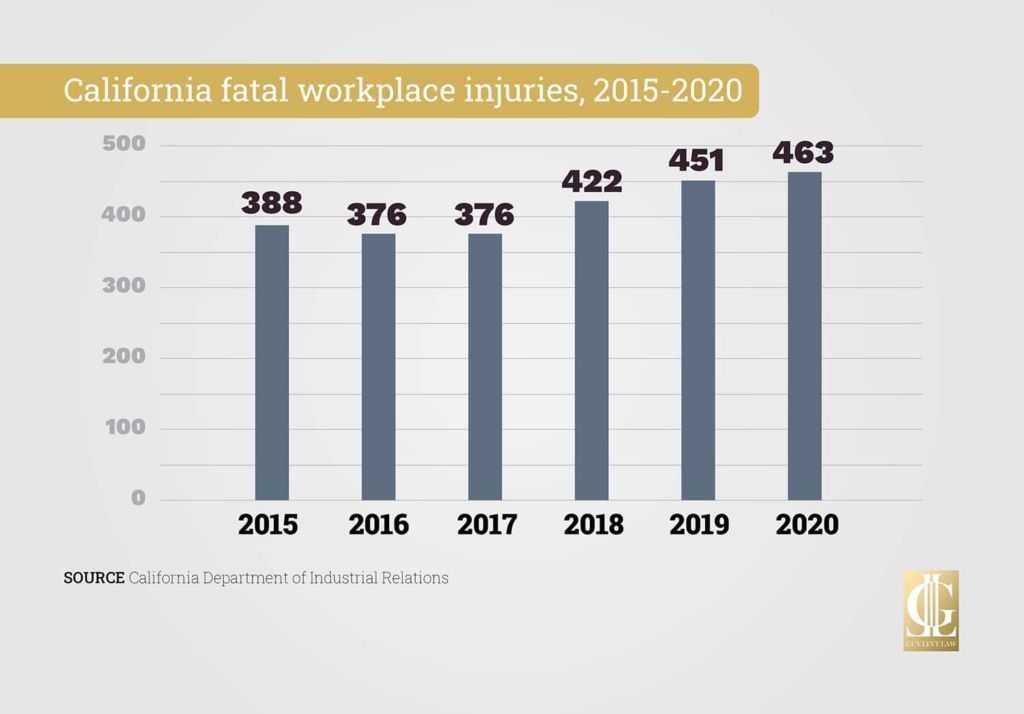 Transportation accidents accounted for about one-quarter of all workplace fatalities in 2020, followed by falls, slips, and trips. While some incidents may be difficult to avoid, violence was the third-leading cause of workplace deaths in California in 2020, accounting for 97 of the 463 deaths.
Most Dangerous Jobs in California
Given what we know about what caused most workplace fatalities in California in 2020, looking at the jobs with the highest workplace accident rates isn't necessarily surprising. But it is important to understand how jobs can vary in their risk level for workers.
Looking at broad industry data shows that couriers and messengers have the highest rate of workplace injuries, 74 per 100,000 workers, which is to be expected given that more than one in five fatal incidents were from transportation accidents.
But in second place are workers in healthcare and social assistance, followed by those working in state and local government. This is likely due to falls and slips but could also be influenced by violence, which is the third leading cause of on-the-job deaths.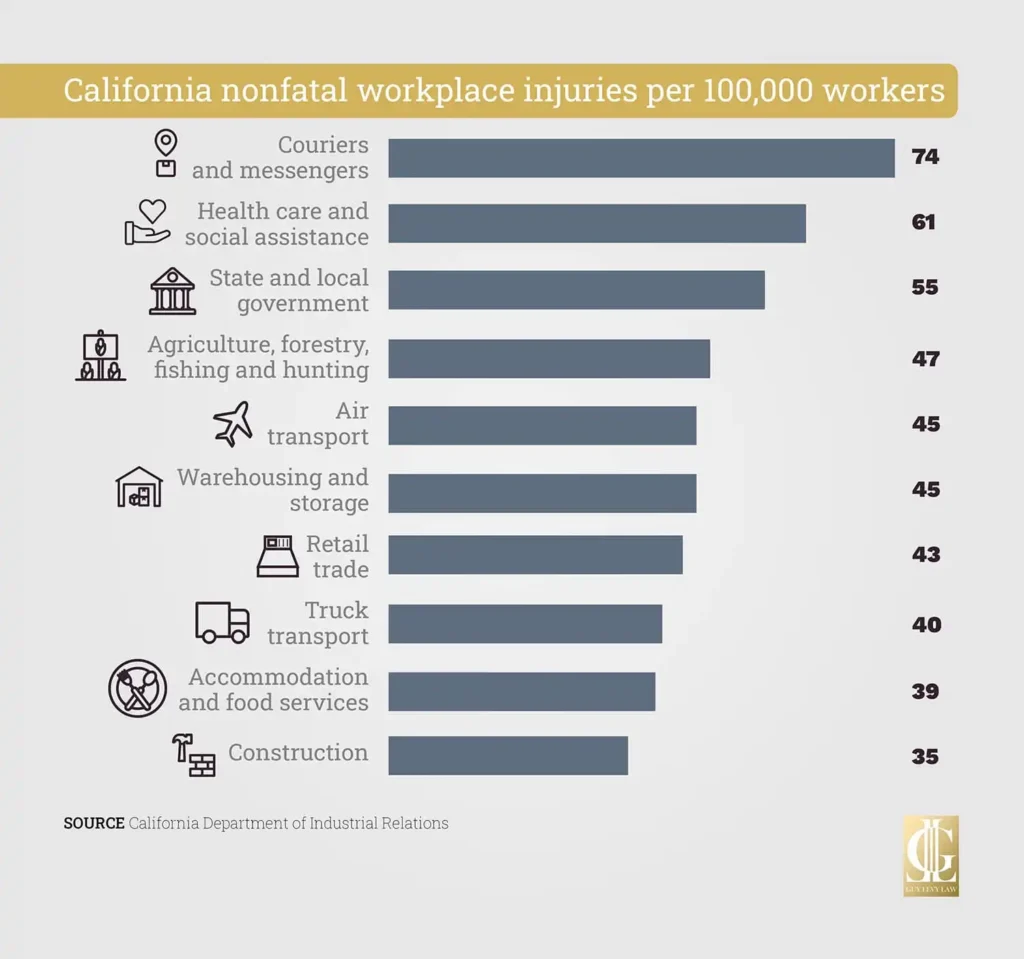 Hispanic & Latino Workers Most At-Risk
Of all workplace fatalities in California in 2020, 214 of the 463 people who lost their lives were Hispanic or Latino, which means that ethnic group accounted for almost half of all workplace deaths in the state. While Hispanic people are overrepresented compared to their share of the overall population, Asians are underrepresented in fatal workplace accidents.
This disparity is likely due to the fact Hispanic and Latino workers are more likely than other racial or ethnic groups to work in certain occupations, particularly ones that are physically taxing or dangerous.
For example, between 2013 and 2019, 17 percent of all workplace fatalities in California were among people working in the construction industry, and nationally, Hispanic and Latino workers account for nearly one in three people employed in this industry.
Similarly, men are much more likely to be killed or injured on the job than women. Men accounted for more than 90 percent of fatal workplace incidents in California in 2020, which speaks to the fact that men are much more likely than women to work in dangerous occupations, including construction, maintenance, and natural resources.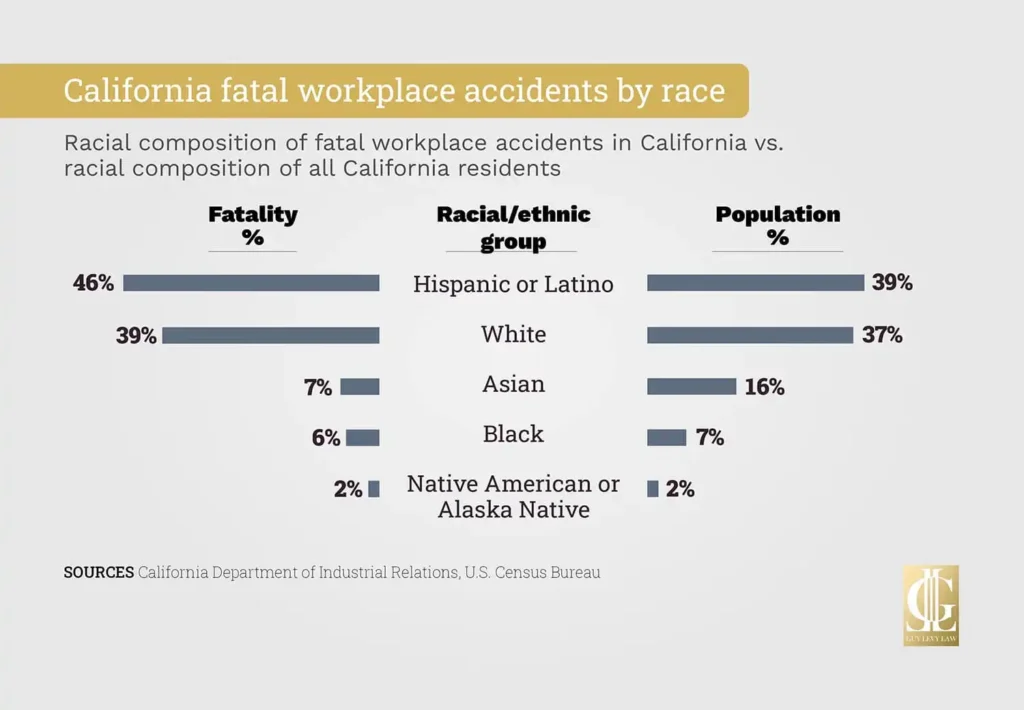 How Does California Compare to the U.S.?
We've already touched on the fact that California in 2020 had one of the highest workplace fatality totals in the country, behind only Texas. But after adjusting for population differences, the state compares much more favorably.
Our analysis found that Wyoming and Alaska have the highest workplace fatality rates, likely due to their small population and reliance on many of the industries that have higher accident and fatality rates. Wyoming, for example, has one of the highest rates of employment of construction laborers.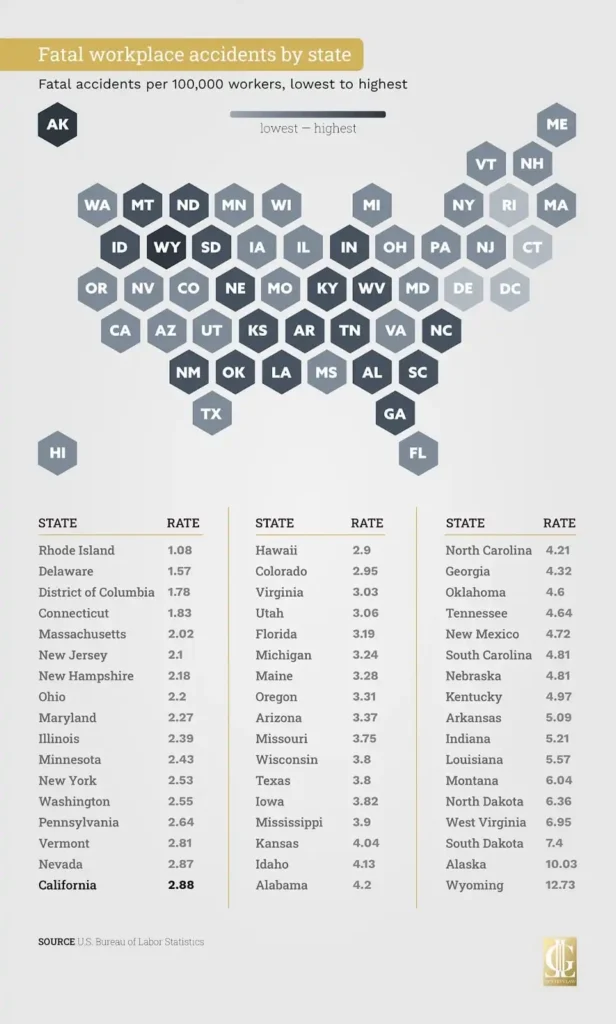 5 Things to do if You're Injured on the Job
Get Medical Care Immediately: If you are injured at the workplace, your first priority should be getting medical treatment from a doctor or hospital if necessary.
Report the injury to Your Employer: Report the injury as soon as possible, ideally within 24 hours so your employer can't deny the claim and leave you without workers' compensation.
Take Photos and Videos as Evidence: When reporting the injury, the employer will likely ask for proof. Be sure to take photos and videos of your injuries, broken equipment, faulty workplace design — anything that shows how and why you got hurt.
Record your expenses and losses: To file for compensation, you will need to prove what expenses and losses you incurred as a result of this injury. This doesn't need to be anything fancy. Just jot down the details and keep a copy of your medical bills to submit along with your report.
Contact a Workplace Injury Lawyer: Unfortunately, some employers may not cover all of your lost wages or may retaliate if you file a workers' comp claim by cutting your wages or hours. It is important to consult an expert who specializes in both workers' compensation and also personal injury law, who will discuss your options and make sure you get the maximum compensation and benefits allowed by law.