7 Best Mini Golf Locations in Houston – Updated December 2022
We've researched more than 20 mini golf location in and around Houston city, and listed top 7 most popular miniature golf location. So if you're searching for the best mini golf near me in Houston then check these 7 locations. And if you're not in Houston and looking in some other location in the USA then check this page where you can find mini golf location through zip code.
1. Topgolf
This is a place where you can expect of getting some unforgettable experiences whether you visit with family or friends. Their golf games are suitable for all ages and are competitive as well as of great fun. For any skill level or time of the year, Topgolf is a perfect place for various activities. Similar to the bowling lane they have climate-controlled playing "bays".
The private space they offer is also impressive that can fit in groups of any size and their full-service restaurants that have impressive food and drink menu for everyone. Their HD TVs are just great for watching big games and taking everything into consideration it is a great place where every time you visit it feels like a party.
Address: 1030 Memorial Brook Blvd, Houston, TX 77084
Phone: (281) 406-3176
Open Hours: Sun – Thu (10 am – 11 pm), Fri – Sat (10 am – 12 am)
Website: https://topgolf.com/us/houston-west/
2. Speedy's Fast Track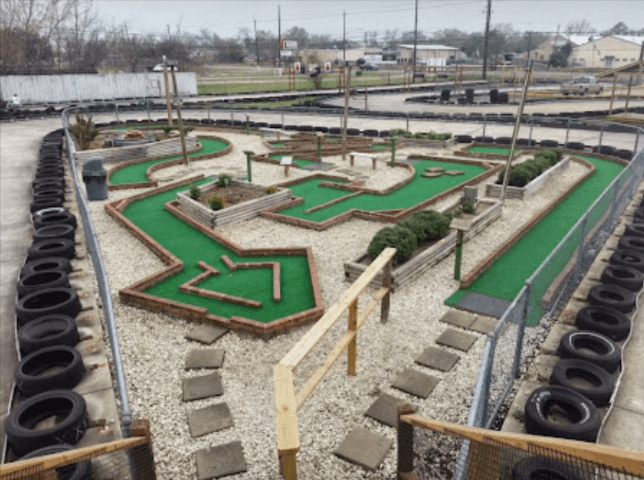 They have not only an 18 hole mini-golf course but also four types of go-kart, video games/arcades numbering more than 150, and laser tag. So you can expect to get an amazing experience with cool adventure activities. Although they have minimum age and height requirements you can be best assured of eligibility by visiting their official website.
Their go-kart tracks are managed so well that you can board real quick each time although you may face line it will move quite swiftly. They prioritize cleanliness by cleaning restrooms, tables quite frequently. If you got any questions regarding any activities, you can always find polite, helpful, and knowledgeable employees to help you out.
Address: 11440 Hempstead Rd, Houston, TX 77092
Phone: (713) 957-8803
Open Hours: Sun – Thu (12-10 pm), Fri – Sat (12 pm – 12 am)
Website: http://www.houstonfasttrack.com/
3. Track 21 Houston: Indoor Go Karting, Laser Tag, and Mini Golf
If you visit any day between Monday to Thursday then you can experience the longest indoor track with race carts hitting up to 45mph of speed. But on other days this tract is divided for kids and adults, hence there is waiting for kid's races. Apart from the newly added Jungle-themed black light 9 hole mini golf they have Area 21 laser tag that can hold up to 7 different teams with a total of 45 guest capacity.
So you can have fun with your whole family through activities like Indoor Karting, Mini Golf, Laser Tag, and Arcades. And if you are considering celebrating birthday parties or corporate events then they can arrange everything from catering, drinks to specially booked casino rooms just for your people.
Address: 4815 Hwy 6 N, Houston, TX 77084
Phone: (281) 200-2600
Open Hours: Mon, Wed, Thu (3-10 pm), Fri (3-11 pm), Sat (10 am – 12 am), Sun (11 am – 8 pm), Tue (Closed)
Website: https://www.track21houston.com
4. US Golf and Games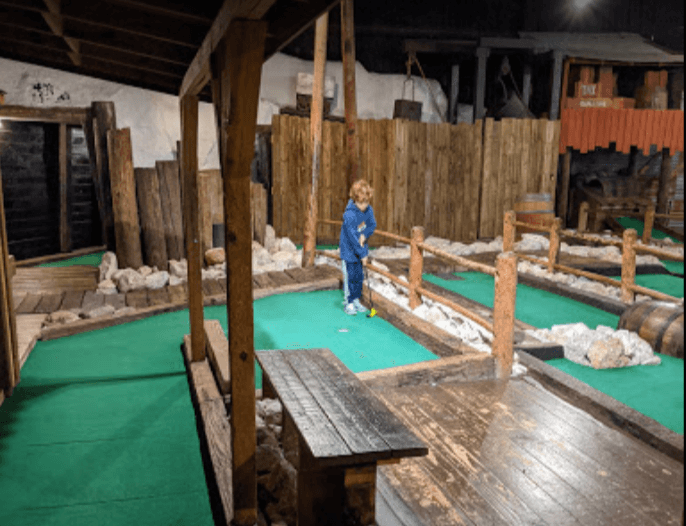 The Us Golf and Games is one of the best family entertainment centers in Houston that houses different games in a clean, safe, and climate-controlled indoor environment. They provide softball and baseball batting cages along with a miniature golf playing area. The 18 holes are a great area for filtering stress by hitting the balls towards the holes with due focus.
The place is perfect irrespective of the outside weather and considering the price range everything it's worth visiting the place. Apart from a covered go-kart track that is not too large, they also have pool tables. Although they have limited arcade games that are small in size their mini golf is affordable and is in okay condition, especially for kids.
Address: 10106 Thermon, Houston, TX 77075
Phone: (713) 943-2299
Open Hours: Mon – Thu (11 am – 10 pm), Fri (11 am – 12 am), Sat (10 am – 12 am), Sun (12-10 pm)
Website: http://usgolfandgames.com
5. Longview Greens Miniature Golfing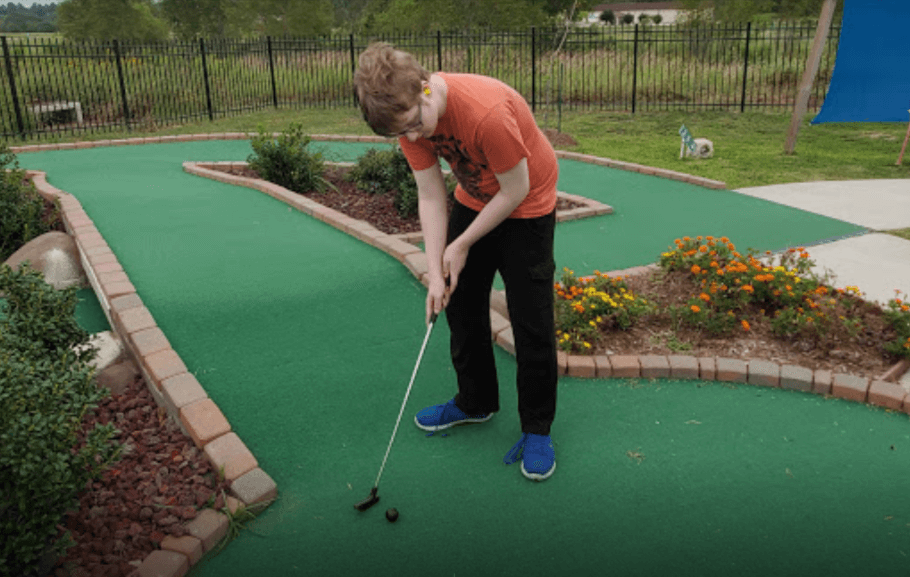 Here the 18 holes miniature golf is Texas-themed and has some amazing water features including small streams running through the course. This mini-course is well lit and maintained which makes it good for a night game, the lawn around the course is also well-manicured. There are connect 4 games, bean bag games, cornhole boards, and shady spots for public use.
The overall area is kept very tidy with a clean restroom. The staff is friendly and helpful. At the office, you can find ice cream treats. You can find 4-5 picnic tables for people's use and after you finish your game you can find plenty of space to sit and play other games. You won't find any problems with parking as there is ample parking space available.
Address: 735 Clepper Dr, Montgomery, TX 77356
Phone: (936) 242-0604
Open Hours: Sun, Thu & Fri (1-9 pm), Sat (11 am – 9 pm), Mon, Tue & Wed (Closed)
Website: http://www.longviewgreens.com
6. Magic Carpet Golf
With all the three courses being outdoor you can choose to play any or all of those. These courses are themed differently and having each hole has a different challenge to overcome, but none of these holes are too difficult to score. Although the courses look a little dated but it's really fun especially with the Magic Carpet Golf.
The turf is well maintained and among the 3 courses, the castle course has 28 holes. The staffs here are super friendly who answer all of your questions. A well-shaded area with beautiful trees that are kept very clean is the perfect place to visit at quite a reasonable price. Tunnels and moving elements make the place even more fun and enjoyable.
Address: 9030 Seawall Blvd, Galveston, TX
Phone: (409) 740-2000
Open Hours: Mon – Sun (9 am – 10 pm)
Website: https://www.galveston.com/whattodo/outdoorfun/magiccarpetgolf/
7. Andretti Indoor Karting & Games Katy
Not only it is a great place for indoor karting but also it has a ton of other cool games like arcade, mini-golf, omniverse, and hologate VR, hologate blitz, laser tag arena for both adults and kids. Other than playing these games you can plan awesome birthday parties to give your friends a thrilling experience with speed karting, games, great foods, and more.
you can join their E-Club to keep yourself updated with their exclusive specials, promotions, and coupons. They have Food Truck Plaza and Bar where you can have a pleasantly satisfying lunch or dinner with meals prepared using fresh ingredients. One bad side of being a great place for carting is its crowdedness. The instructors there will help you with fitting helmets and give instruction for a safe and thrilling experience.
Address: 1230 Grand W Blvd, Katy, TX 77449
Phone: (832) 974-2201
Open Hours: Mon – Thu (11 am – 11 pm), Fri (11 am – 1 am), Sat (10 am – 1 am), Sun (10 am – 12 am)
Website: http://andrettikarting.com/katy