We researched over 10 Mini Golf in Los Angeles, and out of these, we've listed the 5 best and most popular mini golf locations according to our team research, customer reviews, and popularity. See our business selection process.
Also See: Find Best Mini Golf Near Me (Search By Zip Code)
1. Sherman Oaks Castle Park
If you're searching for the best mini golf near me in Los Angeles city then Sherman Oaks Castle Park should be your choice to enjoy yourself here. This place is fun for all ages, your neighborhood has been in Sherman Oaks since 1975.
This is San Fernando Valley's premier family entertainment center where everyone can enjoy the finest miniature golf, arcade and batting cages. Great family fun for kids of all ages. This amusement park features batting cages, all the latest arcade games and three 18 hole courses of miniature golf.
Sherman Oaks Castle Miniature Golf, Batting Cages, and Arcade are now open everyday. Face masks are required indoors at all times regardless of vaccination status. Here, you can come without any reservations.
Address: 4989 Sepulveda Blvd, Sherman Oaks, CA 91403
Phone: (818) 756-9459
Open Hours: Sun – Thu (10 am – 10 pm), Fri – Sat (10 am – 11 pm)
Website: http://www.laparks.org/shermanoaks_castlepk/
2. Golf N' Stuff (Norwalk)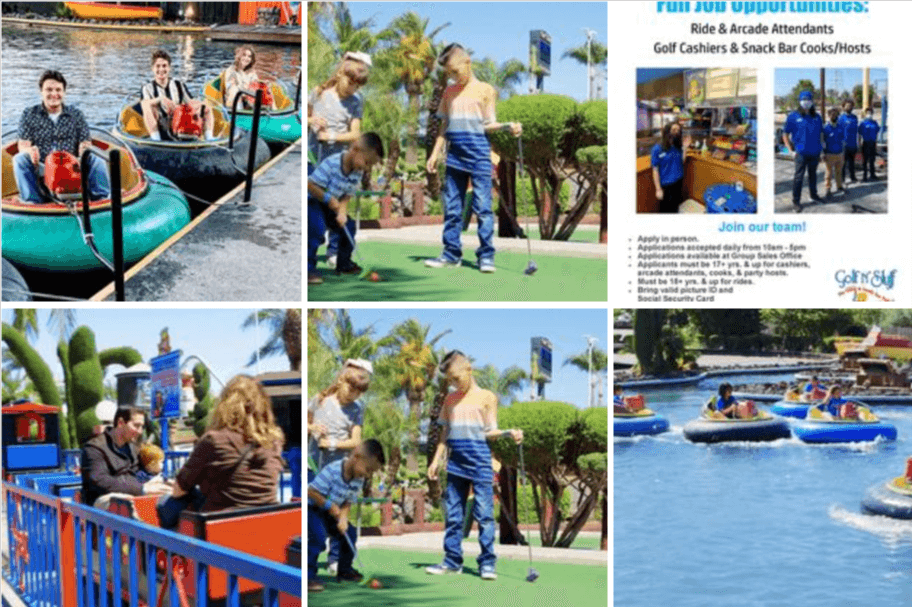 If you don't know then let me tell you that For 50 years, Golf N' Stuff has been providing quality family entertainment for all ages. All of their amusement parks (Tucson, Az., Norwalk, Ca., and Ventura, Ca.) feature unique miniature golf courses as well as other activities including go-karts, and bumper boats.
In addition, each facility has lush landscaping, water features, and other rides and attractions. If you're looking for the latest games activities for your kids then they also have the most current and up to date video and prize arcade games available for your kids enjoyment.
So If you are planning a group outing, birthday party, company event, church celebration, sports banquet, or just a special get together, look no further than Golf N' Stuff. So if you want to make a memorable event then I think this place should be your ideal choice to visit.
Address: 10555 Firestone Blvd, Norwalk, CA 90650
Phone: (562) 868-9956
Open Hours: Sun – Thu (10 am – 10 pm), Fri (10 am – 8 pm), Sat (12 pm – 12 am)
Website: http://www.golfnstuff.com
3. Castle Park (Riverside)
If you're not interested with the above two options and looking for mini golf in the Riverside area then Castle Park might be a great alternative for you. Castle Park is a very popular amusement park which was founded in 1976. At Castle Park, you can find four championship 18-hole mini golf courses.
In addition, the park includes a full amusement ride park featuring 27 rides suitable for all ages. Also, a vast selection of carnival midway games are available for kids. Other entertainment activities such as a water playground, retail shops, a video arcade will be found here. You will also enjoy various party locations including the circus tent themed "Big Top."
Now if I talk about food then Castle Park is one of the best theme parks in California which is known for great food. So whether you're looking for a casual meal at The Big Top Restaurant or Plaza Cafe, a quick bite from the Snack Bar, or a sweet treat from The Fry Factory, there is something for everyone.
Address: 3500 Polk St, Riverside, CA 92505
Phone: (951) 785-3000
Open Hours: Mon – Thu (11 am – 8 pm), Fri (11 am – 5 pm), Sun (11 am – 9 pm), Sat (Closed)
Website: http://www.castlepark.com
4. Camelot Golfland (Anaheim)
For some reasons, if you're not interested in the above three options then I highly recommend you to visit Camelot Golfland, Anaheim. This is something that you or your kids can experience a whole new level of fun at Camelot Golfland.
You can play your way through one of their most popular and challenging miniature golf courses. The Castles of The World course features a pagoda, castle and Spanish forts with shooting water cannons. The jungle themed course adds a safari and lush tropical feel to your golf experience. Surf's up is an oceanic and nautical themed course.
Note: Golf courses close one hour prior to park closing
Apart from this, the park also features their castle with a huge video game arcade and delicious fresh pizza. Even more fun awaits on their exciting attractions, like Laser Tag, Race Cars and Bumper Boats.
Address: 3200 E Carpenter Ave, Anaheim, CA 92806
Phone: (714) 630-3340
Open Hours: Sun – Thu (10 am – 10 pm), Fri – Sat (10 am – 12 am)
Website: http://www.golfland.com/anaheim
5. Arroyo Seco Golf Course
This Creekside golf course has amazing features with a lighted driving range & a bar/restaurant hosting live jazz & blues. This golf course is hidden in the shady arroyo below the 110 Freeway in South Pasadena, and this was opened to the public in October of 1955. Arroyo Seco Golf Course is a tradition in the local community, great for golf instruction from their top experts or just a spot to hang out.
Here, 18-Hole, Par 54, 1,953 yard course offers a challenging game for all ages from kids to old ages. Tucked away from the surrounding neighborhood by a mature tree-line, it boasts well-maintained fairways and greens. When you visit here, you'll enjoy the newly renovated 9-Hole Mini Golf Course and Driving Range with 33 stalls with distances marked from 50 to 250 yards (back fence).
Whether you're a Beginner, Intermediate or Advanced Player Feel Free to contact Our Experienced Teaching Professionals To Schedule your Lessons.
Address: 1055 Lohman Ln, South Pasadena, CA 91030
Phone: (323) 255-1506
Open Hours: Sun – Fri (7 am – 8 pm), Sat (7 am – 5 pm)
Website: http://www.arroyosecogc.com