8 Best Escape Room Center in Houston – Updated December 2022
Escape rooms are great places for spending time with family/friends, celebrating private events, and corporate team-building events. Here you get to experience the adventure of escaping a room by finding clues, solving puzzles with your team. Time spent here form one of the best long-lasting memories, and that's why we have shortlisted these 8 best escape room for you to choose from in Houston.
Related: 5 Best Scariest Escape Room in United States
1. The Escape Game Houston
At the Houston location, The Escape Game offers a total of 5 escape room experiences: Special Ops-Mysterious Market, The Heist, Playground, Gold Rush, and Prison Break. These games have different difficulty levels ranging from 6 to 9 out of 10 with various player capacities (8 to 12).
Here games are shared with other people although you can choose to play with only your party. You need to pick a theme and then complete your mission in under 60 minutes by following clues and solving puzzles with your team. Every game is designed to give an elevated unplugged adventure experience to families, couples, corporate groups, and friends.
They take care of the safety of guests by proper sanitization between each game and some game adjustments to avoid high-touch elements.
Website & Booking: https://theescapegame.com/houston/
Address: 794 Sorella Ct #127, Houston, TX 77024 (Get Location)
Phone: (713) 999-1496
Open Hours: Mon – Sun (8 am – 11:40 pm)
Pricing:
Reviews
Even though we didn't quite finish escaping, my family and I had a great time. Our Game Guide Avery was also very helpful throughout it all. The staff were very welcoming and helpful as a whole and I enjoyed myself. We had an amazing experience, and I enjoyed going for my birthday !!
We had a BLAST!! We came for my friend's birthday and WE ESCAPED! This was honestly some of the most fun I've had in a while, and would definitely come back in the future. Harrison, one of the staff members, was so kind and helpful to us and it made our experience just that much better.
It was so fun! My group did the museum escape room and was accompanied by the best guide – Mario! Honestly we probably would've taken at least three hours to finish the room by ourselves because it was honestly quite challenging, but Mr. Mario came in clutch with the clues and we left with like three minutes left. Best escape room I've been to!
2. Escape The Room Texas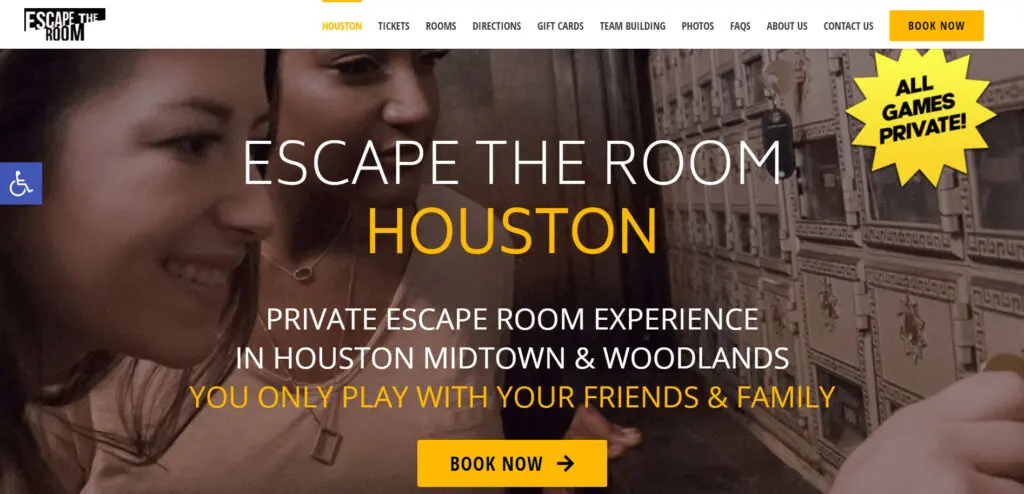 Here you will get a private experience for all games. If you are fueled with a sense of adventure and want to successfully escape one of the finest escape rooms using your curiosity and creativity, then it's the right place for you. The gamemasters are always there to help you in finding clues if stuck.
Every escape room is unique with a different theme and difficulty levels; whether dig escaping or bank robbing, you and your team should be challenged. If you want, they can organize a perfect collaborative event for up to 200 people, ideal for team-building.
This place is also great for spending time together with family, friends, or even on a date. They take care of your entertainment and do everything to keep you safe: Sanitization, Safe distance maintenance, temperature check, among others.
The specialty of this escape room is that when you go with more people in it, then the price of the ticket will decreseases. For example, if you go with 2 people, then you have to give $42 for each person. But if you make a group of 8 then you have to pay only $27 per person.
Website & Booking: https://escapetheroom.com/houston
Address: 3303 Louisiana St #220, Houston, TX 77006 (Get Location)
Phone: (832) 786-8822
Open Hours: Mon – Sun (1-8:30 pm)
Reviews
So much fun! Staff was friendly and upbeat, the escape room was challenging and fun. They take your photo at the end and you get to keep score. Will definitely go back to try another one.
This was an awesome experience for me and my grandsons!! The staff was incredible and accommodating…we all had a blast! It's a great indoor outing when the weather is bad:) I've brought student groups here before as well. They never disappoint.
They have a lot of different rooms to choose from and the escapes are always interesting and well laid out. Always a challenge! This is a fun thing to do with family or friends to see who is the brains of the group haha
3. Escape Hunt Houston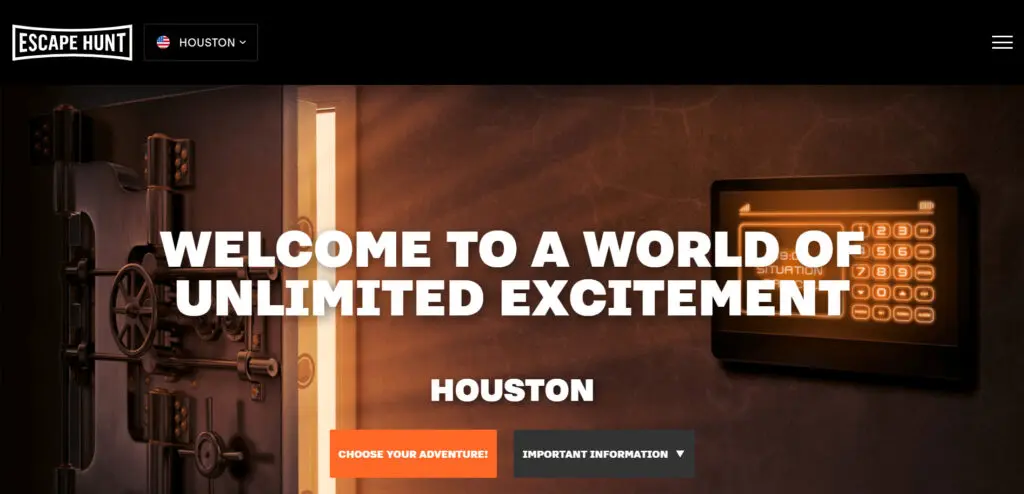 With games like Theft Of The Lone Star, Alice In Puzzleland, Mystery In The Mansion, and Houston- We've Had A Problem, and this place is packed with excitement of a new world where you will be completing missions by solving puzzles, finding clues, and completing challenges before the time runs out.
Escape Hunt Houston is also known for providing unique adventurous, brilliant experiences for corporate and social events. The main aim of these parties and social events is to build team spirit. Here you can also buy Gift Vouchers for your love ones.
They offer 20% off on any Wednesday for an in-person booking made for 4 or more people. You don't need to worry about safety in this covid-19 situation as they are regularly clean and disinfect everything.
Before booking here, check out the parking information and other things to consider information by visiting the website.
Website: https://escapehunt.com/us/houston/
Address: 125 W Gray St #100, Houston, TX 77019 (Get Location)
Phone: (346) 240-9111
Open Hours: Wed & Thu (3-8 pm), Fri & Sat (12-10 pm), Sun (12-9 pm)
Pricing
Reviews
This was my first escape room and it was probably the best place to start! The game masters were super kind and the clues were very helpful. The rooms were super detailed and the puzzles weren't overly difficult if you're good at puzzles (which I am not). Everything was clean as well. Will definitely recommend to others and will be going again!
First time doing an escape room and this was an awesome experience! Did the NASA theme room – difficult but doable! We didnt complete in time, but had the finish line in sight. Appreciated the team stating late since our team was running behind.
10/10 recommend. My friends and I did the "Theft of the Lone Star" and it was an amazing experience. We are already talking about what adventure we are going to do next!
4. Locktopia Escape Room Houston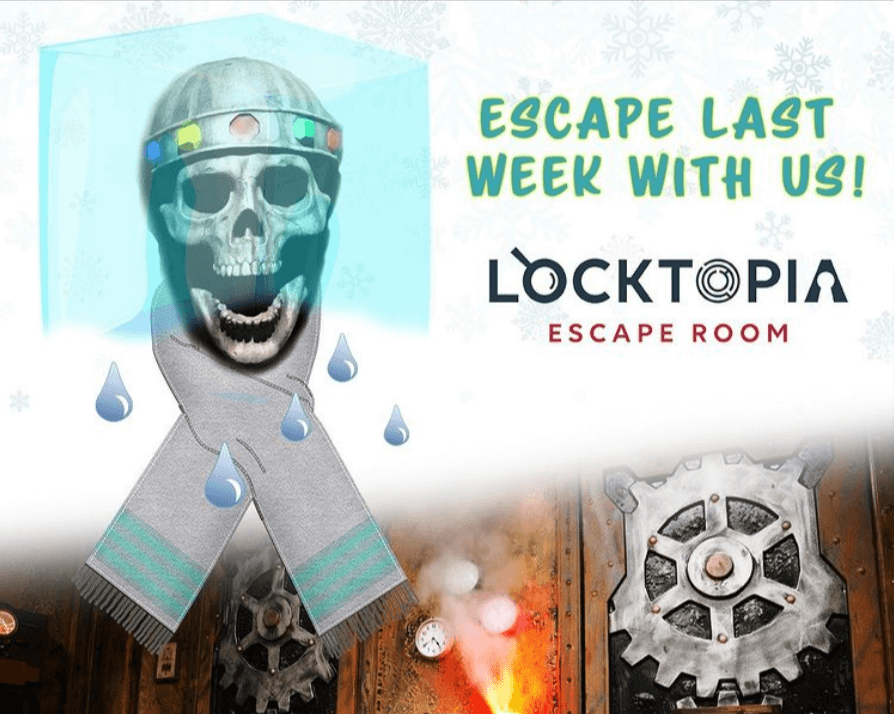 Although they have only two escape rooms, namely Spellcaster Houston and Antidote Houston, they offer more than just an escape room experience to you. Apart from having Party rooms and escape rooms for kids, they also have excellent arrangements for gender reveal events where parents need to find clues and solve puzzles to find the gender.
This is an excellent place for kids also where they can play Spellcaster escape room for great fun. You can get a discount through their escape rooms promo codes. This place is excellent for spending exciting time with family/friends, team-building events, birthday parties, and date nights.
Here the social distancing norm is strictly maintained. Only players enter the rooms, and gamemasters remain outside to help you out if you feel stuck.
Website: https://locktopiahouston.com
Address: 5326 Weslayan St, Houston, TX 77005 (Get Location)
Phone: (713) 588-1705
Open Hours: Mon – Wed (12-8 pm), Thu (12-9 pm), Fri (12-11 pm), Sat (10:30-11 pm), Sun (12-6 pm)
Pricing
Reviews
My friend and I have done both of the available rooms at Locktopia Escape Room, and both were super fun! We consider ourselves pretty smart, though both times we did have to use all of our hints. Zach is super friendly, so nice, and really cared that we had a great time. We are so excited for them to open their third room!
My family and I went for the Spell Caster room. The story plot was easy to follow and the clues are quite interesting. It was quite fun! We did used up all hints but Zack was very friendly and helpful.
Such a fun escape room! We did Spell Caster and had such a great time!! Lia was the employee who ran our escape room and she was so helpful and fun!! Definitely want to come back for Endurance when it opens 10/10 recommend!!
5. PanIQ Escape Room Houston
Each of the 3 escape rooms, namely Military Bunker, Chainsaw Massacre, and Wild West, have a maximum capacity of 7 people. With a slight difference, you can choose either public or private experience with later being just $5 per person price more. If you book any day from Monday to Thursday, you can get 10% off using the code WKDAYFUN.
PanlQ Escape Room is a specialized environment created for corporate team-building events where each team member solves puzzles and riddles through collaborative efforts. And this teamwork under high-pressure situations imparts a long-lasting engaging, intelligent, and fun experience to employees.
Through taking comprehensive measures, they keep each escape room clean and safe for visiting customers.
Website: https://paniqescaperoom.com
Address: 1017 Eagle St, Houston, TX 77002 (Get Location)
Open Hours: Mon – Fri (2:30 – 11 pm), Sat – Sun (10 am – 12 am)
Phone: (281) 974-5400
Pricing
Reviews
I really enjoyed this place, 10/10 recommend! My family and I did the Texas Chainsaw one and it was super fun, and also challenging. Our hostess were amazing and very helpful when we needed them. If you're looking for a good place, you can't go wrong with this one!
Booked an escape for my daughters birthday and they had an amazing time. The gentleman running the facility was super friendly, helpful & knowledgeable. We will definitely be back to check out the other rooms you offer.
Place was super fun! The game masters were very friendly, and helpful with hints (should you need them). Did the Wild West and honestly had a great time with the other 6 people in the group. 16 minutes left to spare!
6. Escape Now – Escape Room and Games in Houston
Escape Now houses in total five escape games: Superheroes Hideout, Wizards and Dragons, The Sherlock Room, and Spy Allay, with each game having its leaderboard updated for the last 30 days. These games have different maximum player capacities as well as various difficulty levels.
Every escape room was built for people of different skill sets and ages who don't need specialized knowledge to solve puzzles and successfully get out of these rooms. They also offer mobile escape games other than escape games situated on the premises.
You can play and enjoy escape rooms with your family and friends for private events like date, birthday party or other. These games are also fun for corporate events for building teamwork and trust among fellow employees.
Website: https://www.escapenowhouston.com
Address: 13243 Jones Rd, Houston, TX 77070 (Get Location)
Phone: (832) 220-5948
Open Hours: Mon – Fri (4-9 pm), Sat (12-9 pm), Sun (2-9 pm)
Pricing
Reviews
With the all inviting staff to the mind stimulating rooms the adventure keeps getting better. I would suggest Escape Now of Houston to any age group. FYI the more people in the group the better
Our room was kinda broken. Lol The very nice lady had to come fix things several times. She would pause the clock, but we lost time trying over and over again before she realized it just wasn't working properly. Overall a great time!
Our game guide Sevryn was SO sweet and helpful and we had a great time in our game! We'll totally be coming back to try another room 🙂
7. Escape Zone Houston (Escape Room)
With more than 10000 satisfied customers and 5.0 social media ratings, Escape Zone Houston can host escape games in 3 different languages- English, Spanish, and Russian. They have a total of four escape rooms: Hotel's Secrets(Easy), Tesla Room(Hard), Crazy Artist's Workshop(Medium), and Zombie Bunker.
This place is an excellent source of entertainment activity when finding clues, solving puzzles with family and friends. They have special packages for birthday parties, and the team-building events are intellectually challenging and unique. Escape games are also kid-friendly.
You can book any game by visiting their official website. Through their website, you can make reservations for a private themed party in their territory easily.
Website: https://www.escapezonehouston.com
Address: 6400 Southwest Fwy # J, Houston, TX 77074 (Get Location)
Phone: (888) 896-0022
Open Hours: Mon – Thu (4-10 pm), Fri (4-11:30 pm), Sat (11 am – 11:30 pm), Sun (11 am – 10 pm)
Pricing
Reviews
A little puzzling to find the location but totally worth it. They offered 3 or 4 challenges with pretty cool themes. We chose the Artists escape room trying to discover Salvador Dali's greatest mystery yet. Wasn't too difficult nor easy. Perfect balance for newbies and vets of the escape room thrill! Definitely check out this Escape Zone Houston.
My husband ans I had never been to an experience like this and it was absolutely fantastic. We were very entertained and loved to team up and solve the puzzle. We recommend this location and the host who greeted us and assited us all the way through was great too. Friendly environment.
Awesome experience. We did the medium difficult Crazy Artist's Workshop and it was decently difficult (to be fair, my teammates are kids 13 and 8yo), but the staff member was more than accommodating with extra hints. We'll definitely be back to try the other rooms.
8. Strange Bird Immersive Escape Rooms
Strange Bird Immersive is an internationally recognized escape room project that hosts the number 1 voted escape room in the United States- The Man From Beyond. This is a 90-minute original story experience built using an immersive theatre and an escape room where characters hold their hands to you. Here you with your team need to discover the room's secrets and solve various puzzles before your time runs out.
These custom-designed sets offer puzzles that never require guessing to solve with dedicated professional actors and responsive light-sound effects. Here you become a part of a 90 minutes story where you are getting the chance to go beyond the 60-minute game.
You need to book the game by visiting their website and having a live experience combining immersive theatre and an escape game.
Website: https://strangebirdimmersive.com
Address: 7026 Old Katy Rd #310, Houston, TX 77024 (Get Location)
Phone: (832) 413-2853
Open Hours: Sat – Sun (1 – 9 pm), Thu & Fri (7 – 9 pm)
Reviews
My family have done over 30 escape room and this was by far the best one we have ever participated in Houston! Did not disappoint how great we heard it was before we arrived! Great job to the team who created and run this attraction!
We are BLOWN AWAY with the quality of this experience. Not your "traditional" escape rooms but that is only one of the reasons that makes this experience so amazing. Do not miss. 11/10 experience. A MUST DO!
I came here for my birthday with a small group, and was UTTERLY ENCHANTED. The storytelling, the attention to detail, and the sheer amount of fun we had will be a lifelong, cherished memory. We giggled like kids, and were genuinely transported. The magic was worth every penny.