8 Best Escape Room in New York City – Updated December 2022
Whether you are looking for all private games or want to experience the adventure with other groups of people, these 8 escape rooms we have listed here are the best escape room you can choose to visit in New York City for a great adventure and fun time.
Related: 5 most Scariest Escape Room in U.S.A
1. The Escape Game New York City – Escape Room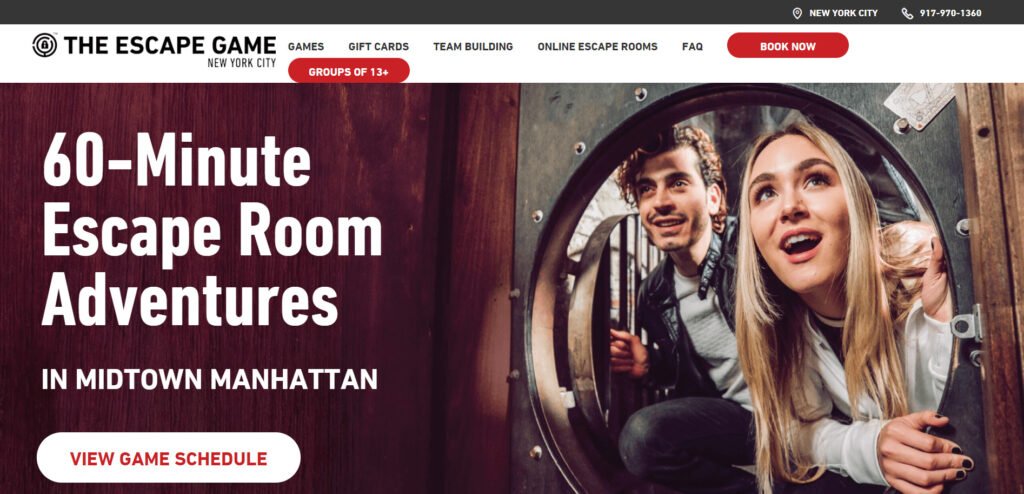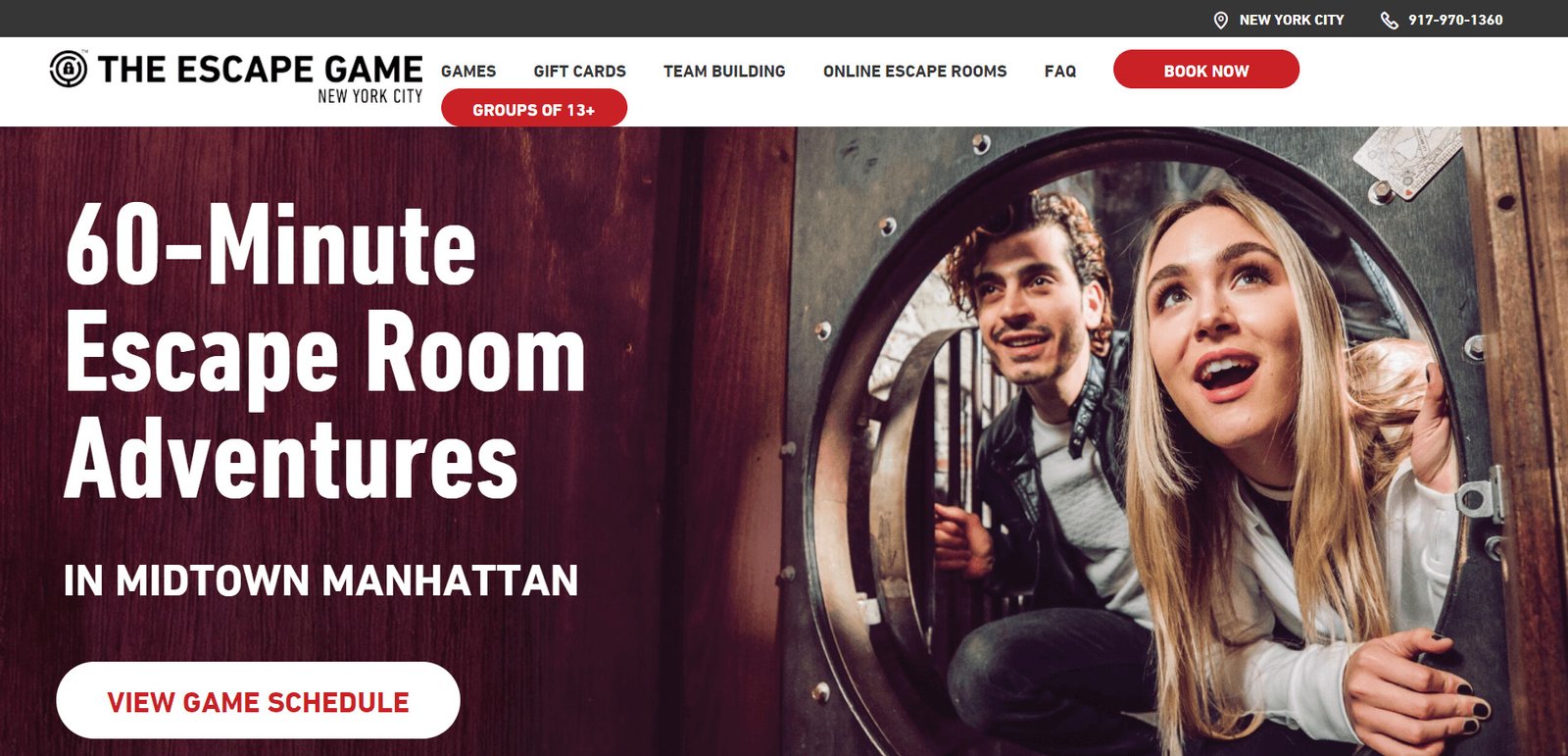 In Midtown Manhattan, you are getting a 60-Minute escape room adventure with The Escape Game New York City. Here you can experience Gold Rush, Playground, Special Ops, Prison Break, and The Heist escape games, each having a different difficulty level.
Here the escape games are designed to give a challenging, fun experience with surprises that would be epic for everyone, whether you are a new player or an enthusiast. Here you are more likely to get an immersion experience with the active help of Game Guides, who will provide you with little clues if felt stuck.
Everything in an escape room and common areas are disinfected to impart the safest possible experience to their guests. You can book games at The Escape Game NYC for large groups or private experiences with a small number of people.
Website & Booking: https://theescapegame.com/newyorkcity
Address: 295 Madison Ave, New York, NY 10017 (Get Direction)
Phone: (917) 970-1360
Open Hours: Mon – Thu (10 am – 12 am), Fri – Sun (8 am – 1 am)
Pricing
Reviews
On our trip to New York we Took our students and chaperones for a little fun and everyone had the best time! It was so easy booking a group reservation and the check in price was quick and easy! Madison at the front desk was especially helpful- and all the game staff was wonderfully fun! We will be back!
Nina was the best! We made it through Gold Rush. The set design was gorgeous, very fun, and filled with great puzzles. Definitely give this room a try with a group a friends. Will come back to try out some of their other rooms later!
Everything was amazing from the staff to my experience. It was my first time doing and escape room and we ended up doing 3 in one day! They even laid out the red carpet for the last one xD. I highly recommend going here
2. Escape the Room NYC
You have the option to choose from any of the escape rooms, namely Jurassic Escape, The Dig, The Home, Meltdown, The Submarine, The Office, The Clock Tower, and Outbreak. If you can't decide which one you want to experience, then they will help you out.
Here you will find clue master's who are friendly and will explain the rules clearly before entering the room and when inside, they will help you with clues if it seems you have struggled enough and can't find a way out at every step, so no clue limit imposed.
If you are looking for a challenge and can think outside the box, try The Dig. You can book for any of the escape rooms, including South Park, Cartman's escape online. You can even book for a special event with only your favorite people.
Website: https://escapetheroom.com/new-york
Address: 24 W 25th St floor 8, New York, NY 10010 (Get Direction)
Phone: (347) 954-9160
Open Hours: Mon – Fri (12 pm – 12 am), Sat & Sun (10 am – 12 am)
Reviews
We came here for my daughter's birthday and we were running a bit late, they were very understanding and accommodating. The host was very friendly and helpful. We absolutely had a blast and will be coming back again to do another escape room.
My boyfriend and I went and it was amazing. We were assisted by Mikey and he was super sweet and very informative. He had great energy and made our time comfortable and fun. At the end he explained everything to us and we were just amazed at how far we got. I definitely recommend this place for a fun activity in NY.
It was really fun! Went with a party of 7 and we really enjoyed all the puzzles. It was relatively clean and we got to take pictures after completing. Puzzles were not too hard.
3. Escape Room New York City – Mission Escape Games
Here you will find two types of escape games: Escape Operation: End of Days A&B(both are the same but have different capacities or layout), and the other is Escape the Hydeout: The Mystery of Henry Jekyll.
They took care of the health and safety of their guests by providing private games, disinfection of rooms and props before every match, contactless check-in, and other measures such as hand sanitisers, masks, and gloves if necessary. Here it's all about unlocking the door by solving brain-teasing puzzles being a team with mutual communication and cooperation.
Go there with your family and friend. Book a corporate event if you are looking to build team spirit in your organization, as escape games are considered a high-quality team-building exercise.
Website: https://missionescapegames.com/nyc
Address: 265 W 37th St Suite 802A, New York, NY 10018 (Get Direction)
Phone: (347) 903-8860
Open Hours: Sun – Thu (12-11 pm), Fri (12 pm – 12 am), Sat (10 m – 12 am)
Pricing
MON – FRI:
2-3 Players: $40 Per Person
4-10 Players: $33 Per Person
SAT – SUN:
2-3 Players: $120 Total (For the Whole Room)
4-10 Players: $33 Per Person
Reviews
Great escape room for my first experience, very accommodating for a couple of slightly late friends along with kind receptionists and game masters. Puzzles were fair and well executed. Would recommend – the location itself is somewhat difficult to find though, haha.
Had such an amazing time at Mission Escape Games 'Escape the Hydeout'. It was so fun, challenging, and creative! My friends and I had the best time! Would highly recommend!! One of the best Escape Games I have been to. Also, everyone there was very friendly and welcoming. 🙂
Five stars for game master Johnathan! He was the best part of the experience. The game itself was challenging and sometimes a bit confusing but overall I'm very happy with the experience. Sound effects were a very nice touch. Went with a group of 7 adults and we escaped with minutes to spare! Doing it again!
4. Exit Escape Room NYC
You can play private games in 3 exciting escape rooms with just 60 minutes to escape. The games are designed to give you a thrilling adventure in an immersive environment where you will feel the rush of every passing second.
Here you are getting 3 games to choose from High-Speed NYC, The Perfect Heist, and Sugar Rush. These games are all about finding the clues, solving puzzles, and unlocking more clues until you escape the room.
They take measures like contact-less check-in, sanitization of rooms after every game, social distance with employees to ensure the safety of visiting guests. Be it fun with friends and family, birthday, or corporate team building, you can find a perfect room for every occasion. You can even buy a gift voucher which can be redeemed anytime.
Website: https://www.exitescaperoomnyc.com
Address: 247 W 36th St Suite 101, New York, NY 10018 (Get Direction)
Phone: (917) 837-4129
Open Hours: Sun – Thu (11 am – 10 pm), Fri – Sat (11 am – 11:30 pm)
Pricing:
Price per player Monday-Friday:
​Private game with 2 players: $40 pp
Private game with 3 players: $35 pp
Private game with 4-8 players: $30 pp
Price per player Saturday-Sunday:
​Private game with 2 players: $50 pp
Private game with 3 players: $40 pp
Private game with 4 players: $35 pp
​Private game with 5-8 players: $30 pp
Reviews
Went here on a date once since it was raining outside. Great indoor activity. The staff was super friendly and the rooms were a lot of fun. I'd highly recommend this location. Going back with my nieces this weekend! Wish they had more rooms. =)
We had such a great time doing the sugar rush escape room in New York City! It was a great brain challenge but not impossible and ended with delicious cupcakes! Definitely recommend coming and trying this place out. And you can play with just the number of people on your party and no strangers which is really nice.
I booked The Perfect Heist event for my s/o and some friends and we actually escaped! The game masters were very understanding and let us start before our friends that were running late arrived. Overall it was a wonderful experience and we'll be back to try the other rooms.
5. Clue Chase
Clue Chase has 4 escape rooms that host four escape games, namely Moonshine Madness(1923), Pirates of the Bermuda Triangle(1666), Guardian of Gotham(2132), and Houdini's Workshop(1926). They also have three instantly playable games without any set time and can be played for more than one hour at just $20 per team of six players.
Escape rooms are amazingly designed to give almost real-life feelings and have the highest standard original puzzles that will hook you up. These rooms are perfectly designed to provide the utmost thrilling puzzle-solving experience when visited with family or friends.
Suppose you are looking for escape rooms suited for a large group. In that case, Clue Chase can provide with such along with a dedicated event coordinator who has successfully hosted corporate office events for years.
Website: https://cluechase.com
Address: 39 W 32nd St 4th floor, New York, NY 10001
Phone: (646) 964-5783
Open Hours: Mon – Sun (11 am – 12 am)
Pricing
Reviews
Rooms are amazing!! We went to go play Moonshine Madness and enjoyed it so much that we went back to do Houdinis! We're actually going to the pirates room tomorrow! They had such unique puzzles. The Houdini themed one was probably one of my favorite escape rooms that I have done (and I've done a lot!). I would definitely recommend coming here!
This escape room in New York City was great! We were a group of four people, and we escaped, but with little time to spare. None of the puzzles were too too difficult, yet the whole thing was sufficiently challenging. I would definitely highly recommend this to anyone considering doing an escape room.
Great escape room experience! Really enjoyed the wide variety of clever and unique puzzles in the Houdini and Pirate rooms. Excellent value, lots of fun, highly recommended for any fan of escape rooms!
6. Brooklyn Escape Room
Currently, only The Haunted escape rooms are open, while the other two rooms are closed due to pandemic gathering restrictions. The Hunted is a private game that can be booked for 2 or 4 people, although additional persons can be added for a maximum of 8 players. This game is designed to be creepy in a dimly lit room with special effects and noises that makes it mildly scary.
All games are made private with limited capacity to follow covid-19 protocol, and between games, rooms are disinfected. It is mandatory for guests and all staff to wear masks at all times.
It would help if you arrived at least 10 minutes before game time to receive the required information and check-in. Being late would result in an in-game time deduction.
Website: https://www.brooklynescaperoom.com
Address: 594 Pacific St, Brooklyn, NY 11217
Phone: (347) 721-3350
Open Hours: Sun, Mon, Wed & Thu (11:30 am 9:30 pm), Fri & Sat (11:30 am – 10 pm), Tue (11:30 am – 4 pm)
Pricing:
The Hounted: $60 (1 hr) for 2 payers (Mon-Fri)
The Hounted: $140 (1 hr) for 4 payers (Sat-Sun)
Review
I loved the room here. I've done quite a few rooms at all different places and this was definitely on the high end of quality. The puzzles and mechanics were fun and unique.
I definitely recommend this Escape Room if you're looking in New York City! Very fun experience and wasn't too hard but not too easy either ! Definitely have to work together as a team , there were definitely jump scares and the Story was pretty cool also. I went with just me and my boyfriend and it was very fun for our first time !
We had an awesome time playing The Haunted! We escaped with 3 minutes to spare 😆 Great service, wonderful room, would absolutely go again if I could!
7. BrainXcape Escape Room
Rated among the best escape rooms in NYC, BrainXcape Escape Room of New York City offers you three different escape room experiences- Rikers 1932, The Haunted Hotel, and Game of Gold. The first two escape games are of a maximum 60-minute duration with 2-10 people inside, while Game of Gold is more of a family-friendly game of a 45-minute period that allows 2-5 people.
These games were always private, and now it's no different. They sanitize the rooms after every game, and their game masters always wear masks and gloves. Before entering any escape room, every guest needs to wash their hands. All this indicates their top priority- The safety of Guests.
You can always add more people by contacting them. They can arrange corporate team-building events, escape room birthday parties with your family or friends, or even with a date.
Website: https://www.brainxcape.com
Address: 160 Broadway 3rd floor, New York, NY 10038
Phone: (347) 696-1408
Open Hours: Mon – Fri (11 am – 10:30 pm), Sat – Sun (10:45 am – 10:50 pm)
Pricing
Reviews
Had an amazing time there with my friends. The secreny was amazing and the puzzles were unique and actually perfectly placed. The hints given actually helped and me and my friends all had a great time. Definitely comeback to beat the haunted house room.
What an awesome experience!! We escaped Riker's Prison with 2 minutes to spare. The set was well thought out and realistic, the clues gave just enough information to help but not give anything away and our "host" was amazing!! Overall it was an amazing and fun time! We would definitely go back and play again!!
Had the best time! Employees are super nice and incredibly helpful, experience is creepy and challenging, it checks all the boxes! Highly highly recommend 10/10
8. Escape Room Madness
You can choose from 6 different escape rooms, and each room has its difficulty level( 6-8 out of 10) with additional accommodative capacity. If you are looking for the most thrilling, entertaining, and adrenaline-inducing escape room experience created and designed to test your perception and challenge your intellect via puzzles, patterns, clues, then visit Escape Room Madness.
Escape rooms The Perfect Crime, Quarantine, Nuclear Annihilation are situated on the 5th floor. In contrast, Prey, Masquerade, and Exodus escape rooms are located on the 6th floor, with each having different difficulty levels and generous player capacity.
They take care of their guest's safety very seriously and follow all necessary steps to ensure protection. They can accommodate up to 60 people at once, making it a good destination for celebrating birthdays, anniversaries, and team-building events.
Website: https://escaperoommadness.com
Phone: (212) 239-8800
Address: 38 W 32nd St 5th Floor, Ste 500, New York, NY 10001 (Get Direction)
Open Hours: Mon – Thu (12-11:30 pm), Fri – Sun (10 am – 11:30 pm)
Pricing
Mon-fri
Between 12pm-5pm
With Promo Code: 2021
2 People: $35 Per Person
3 People: $28 Per Person
4 Or More People: $25.2 Per Person
Mon-fri: After 5pm
Sat & Sun: All Day
2 People: $50 Per Person
3 People: $40 Per Person
4 Or More People: $36 Per Person
Reviews
I highly recommend Escape Room Madness! It was really fun and I enjoyed my time! 🙂 Definitely go with a group of friends 😀 I believe one of the game master's names is Raphael. He was really friendly and gave really useful hints. If you go, I suggest he be your game master.
We had a lot of fun! We did the Quarantine and it was just challenging enough to keep it interesting, yet not overwhelmingly difficult. The staff were friendly and we got good hints and a clue when needed.
Exceptional experience! Friendly staff! Let us play and work through the clues, but didn't let us get too stuck. Fantastic scenarios, challenging puzzles. Super clean and COVID conscious!