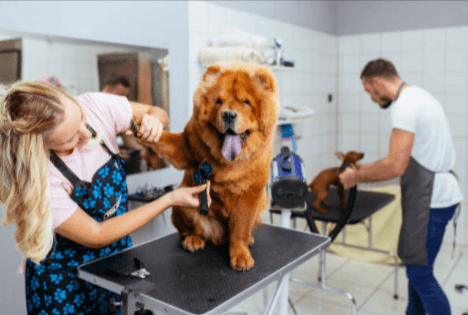 8 Best Dog Groomers in Chicago – Updated December 2022
Are you a pet parent? Then you must be looking for a dog grooming salon. It becomes quite daunting to keep your furry friend groomed. Well, it would not be incorrect to say that it could be risky as well. Being a pet parent is not an easy task. This is why we are here with this list.
If you live in Chicago and need to know about the best dog groomers in Chicago, this is the perfect list. Check the best Chicago based dog groomers of all time mentioned below.
1. Howlistic Grooming
Howlistic Grooming, one of the leading dog groomers service providers in Chicago. They give utmost importance to taking care of the pets and the needs of the clients. This fantastic pet grooming service provider has well-trained employees.
These employees know how to handle pets of every type. With their welcoming nature, they make the clients and the pet feel at home. Howlistic Grooming offers affordable services and believes in using pet-friendly products only.
Services included – non-toxic flea dip, tidy up, nail trimming, ear cleaning, haircut, humane bath, brushing teeth, and more.
Timing – remains open from Tuesdays to Saturdays from 8.00 am to 4.00 pm. At the same time, it closed on Sundays and Mondays.
https://www.howlisticgrooming.com
The staff here is so friendly and helpful and do a great job of managing my Cane Corso who does not like having his nails trimmed.
Anderson and his staff do a fantastic job and always get my rescue dogs in with very short notice. No matter the challenge they are up for it and you can tell everyone there is a true pet lover. Cody was the happiest about their love. 6 hours later he felt like a new pup.
It was my first time bringing my toy puddle to Howlistic and I'm very pleased! He smells great and looks amazing! They even wrote me a little card about how well he did. We will definitely be back 🙂
Always consistent and good! My dog always looks super cute after and they're very quick! Its normally only takes a few hours and they have availability pretty last minute which works out well for me
These Groomers have taken such good care of my dog, I could not be happier. Previous groomers muzzled my dog for "bad behavior" and two groomings with Howlistic and no muzzle! thank you!!!
2. Salon Dog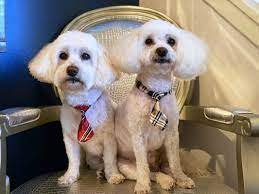 If you are looking for more than just pet grooming, then Salon Dog is the best place to choose. Salon Dog is a boutique store that prioritizes the needs and luxury of your furry friend. They have a team of certified employees who have years of experience.
Here you can clean your furry friend yourself. Salon Dog will provide all the products. Besides that, you can also purchase sweaters, jackets, fun toys, cat and dog products for your puppy.
Services included – trimming, bathing, haircut, brushing, eye cleansing, ear cleaning, self-cleaning and more.
Timing – remains open from 9.00 am to 6.00 pm and on Saturdays from 10 am to 6.00 pm. Salon Dog remains closed on Sundays and Mondays.
I've been taking my dog (standard poodle) here for a couple of years and they do a great job with her. She's always beautifully cut and comes home smelling so good after her wash and cut, and Christina the groomer is incredibly kind. Highly recommend.
We love the way the staff took the extra time to give our Airedale a great haircut, and followed our directions perfectly. She looked and smelled like a new dog after her spa day at Salon Dog
Took my dog here for a self service bath and nail cutting… Wow! The staff at Salon Dog is very nice and accommodating! Would definitely recommend them for your grooming needs! Very clean and satisfied doggy dad over here! Thank you! 5 stars ☆☆☆☆☆
They always give my dogs treats after the nail clippings and not cheap treats, but good quality ones. They are efficient and prices are great.
They are so kind and caring and just really take great care of my dog. She always has great haircuts they also do ridiculous things that I ask for
3. All 4 Dirty Paws
All 4 Dirty Paws offers complete grooming services in Chicago to both cats and dogs. With years of experience, they believe in giving utmost importance to the health of your furry friend. Every product that is used here is pet-friendly.
Also, they provide natural pet food and treats for your pup. All 4 Dirty Paws have two types of program details. The first one is kenneling, and the other is grooming. They have years of experience, and all their services are available at affordable rates.
Services included – bathing, trimming, brushing, cleaning, face trimming, and more.
Timings– remains open from 9.00 am to 6.00 pm from Tuesdays to Saturdays. On Mondays, it remains open from 8.00 am to 5.00 pm, and Sundays from 10.00 am to 4.00 pm.
I called to make an appointment to have my dog's nails clipped. They got us in the same day and did a fantastic job. Very satisfied.
Always timely and friendly service, they must be treating my girl Frannie right, because she's always excited to get there.
Awesome ladies. Very patient and caring at what they do. Especially with my crazy extremely hyper Peanut. .Miley the pug is the calm one. Parking is hard but worth it. 🤗🤗🤗
Amanda was fantastic with my new little devil, I mean angel. She was patient and very kind. My dog looked great and smelled so much better. And my pup was not the easiest pup to deal with. Thank you so much for doing such a great job.
From initial call to make an appointment for my dogs, to the pick up when they were ready, everyone we spoke with were so accommodating. The dogs looked great. Thanks to all involved. We will be regulars!
4. Groomies
Another best grooming salon that you can prefer to choose is Groomies in Chicago. This grooming service provider offers top-class services and takes care of the pup's pampering needs to the fullest. They believe in treating the pets like a family member.
Groomers are well-trained and seasonal experts. They know how to deal with every situation and tackle pets of every kind. The rates are pretty affordable and vary from the size of the dog to special care needs.
Services included – bathing, brushing, haircuts, trimming, nail grind, ear cleaning, mud treatment, tick removals, and more.
Timing – remains open from Mondays to Friday from 8.00 am to 5.00 pm. Closed on Sundays and Saturdays.
http://www.groomieschicago.com
I just picked up my dog from Groomies and I am so happy with the result. I got the brush out and bath package, which included a trim of her face, paws, and bum. Ashley did an amazing job! Her coat is super soft and the trim looks great. My dog seems comfy and happy. Would definitely recommend! Book early because there's a bit of a wait.
They do such a great job and take amazing care of my pup! He loves going to there and I'd be nervous to take him anywhere else!
Groomies always takes great care of our dog! They usually keep him for about 3 hours and we allow him to play with the other dogs. He always comes home beautifully groomed and tired from a day of fun at Groomies! 10/10 would recommend.
We took our 7 month old puppy for a trim and bath. They listened to exactly how we wanted her cut and took excellent care of her! She had a blast during her appointment. Very friendly team and clean/safe environment.
Ollie is my first dog and I was really nervous about finding a groomer. This was our second visit and Ashley was AMAZING! Super friendly and explained to me what the process would look like. HIGHLY recommend Groomies! 🙂 Thank you!
5. Temple of The Dog & Meow Lounge
Are you looking for a salon or dog groomers in Chicago so that your pet feels pampered? Then, Temple of the Dog and Meow Lounge would be the perfect place. Besides grooming services, wellness spa services for both cats and dogs are available too. With well-trained and certified employees, personalized therapy sessions are also provided. They leave no chance to make their clients and their pooch feel welcomed.
Services included – teeth brushing, pedicure, anal expression, wellness spa, trimming, bathing, hair plucking, ear cleaning, and more.
Timing – remains open from Wednesdays to Sundays from 9.00 am to 5.00 pm. Closed on Mondays and Tuesdays.
I have a 7 month old miniature schnauzer and they have treated him amazingly well! He's had a puppy cut and a standard cut and his groomer has always been very gentle and patient with him.
They are amazing, they treat your pal like family and truly care about their comfort 💗 my pup is not the easiest. He's very skiddish and super jumpy. Temple of the Dog have always been patient and sweet with them.
Had a great first experience at Temple of the Dog. Everything was very clean and organized. Staff was professional and friendly and did an amazing job grooming my sensitive boy.
They take such great care of my miniature schnauzer and he always comes back looking like a million bucks! Thank you for always making my dog look awesome 😀.
I love this place and highly recommend! After, taking one my puppy here for 3 years he never came home unhappy or with any cuts or problems. Staff is very sweet and they do the best to accommodate to your pet. Once again, highly recommend.
6. Pet Palace Grooming Salon
The next best grooming service provider in Chicago is Pet Palace Grooming Salon. They offer a variety of services varying from grooming to washing. With a team of experienced employees, they make sure that your furry friend is cared for in the best way.
They make sure to use pet-friendly products. As they have years of experience, they know what a customer wants. They have three types of packages available that depend on the size of your puppy. Pet Palace Grooming Salon makes sure to provide everything to the clients by covering extra miles.
Services included – bathing, cleaning, brushing, trimming, haircut, Grooming, and more.
Timings – remains open from Tuesdays to Saturdays from 9.00 am to 5.00 pm. Closed on Sundays and Mondays.
Life changing haircut for our dog Sal! We rescued him a few weeks ago and he had never had a haircut. Took him to pet palace and we are so pleased with the results! Sal looks so handsome and he has so much more confidence now!
Pedro and Juan are great! They are so accommodating. Very friendly. My doggy always looks just like I asked. Good prices. I have been with them for about 3 years and even though I moved away from the city I still come to them.
Pedro was great! He took wonderful care of my dog and when I picked her up, she was sooooo soft and smelled like vanilla cupcakes. We'll be back for sure!
Love this place, but most importantly, my little girl loves it! They are awesome and do a great job. Don't hesitate to bring your dogs here.
They did an amazing job on my dog! They were so nice and professional. I'm usually very nervous about taking my dog to a new groomer because she's a rescue and very nervous but they took very good care of her, you can see her before and after and she looks amazing
7. Grooming By Galdy
Grooming by Galdy is a family-owned professional business that has been existing for years. They are one of the leading grooming service providers in Chicago. Their main motto has always been taking great care of your puppy and providing quality services. Grooming by Galdy offers different services, which include Grooming, boarding, daycare, to more.
They have the most talented and certified groomers in the city. These employees use pet-friendly products so that your furry friend's health is not compromised. The ultimate goal has always been to bring out the best features of a pet's personality.
Services included – Grooming, daycare, boarding, blow-dry, anal gland expression, nail trimming, haircut, ear plucking, and more.
Timings – remains open from Mondays to Friday from 7.00 am to 6.00 pm. On Saturdays, it remains open from 7.00 am to 4.00 pm. Closed on Sundays.
It was our Zuzu's first haircut. We had so much trouble getting her in anyplace else, and then Galdy's was recommended by a friend. They did an outstanding job for a first time pup with a TON of hair. She looks like a whole new pup! We will definitely be going back.
Love love loved this place! So friendly to me and my pups, very reasonably priced, and my girls looked fabulous in a relatively quick time! So happy I found Galdy!
Grooming by Galdy comes through every time! We have 2 cats that get full baths and lion cuts and GBG is always so friendly and gets them in to their swiftly to lessen stress on the cats. Results are always 10/10 and the cats smell great! I would recommend GBG to anyone that loves their pets!
The daycare, grooming and boarding services are all fantastic! Super friendly and professional staff. I wouldn't take my puppy anywhere else.
Took my fur baby Sandy there for the first time and boarded her for 3 days for Christmas. Very reasonable pricing and was glad I was able to get a room for her at the last minute. Will definitely be taking her back when I need to. Plan on taking her to get grooming services soon.
8. Pet A Cure
Pet A Cure was established in the year of 2004. Since then, they have been providing top-quality services at reasonable prices. Pet A Cure believes in using natural products on pets to nourish them. Here you can choose from a variety of services.
They have a well-trained team who are highly knowledgeable. These employees know how to use the products and which products to be applied. They believe in creating a solid relationship between the pets and the groomers.
Services included– spa sessions, trimming, hair cut, Anal sac Expression, teeth brushing, hot oil treatment, and more.
Timings – remains open from Tuesdays to Fridays from 9.00 am to 5.00 pm. On Saturdays, it remains open from 8.00 am to 3.00 pm. Closed on Sundays and Mondays.
https://www.petacurechicago.com
We love this place! Our 11 year old maltipoo has been to many groomers and we love Pet A Cure! Very professional groom and they take great care of your pet!
I love this place for my dog Max! Since day one they where very nice and made us feel very welcome. I can tell Max is happy coming here and the staff is very happy to have him too. Thank you guys for treating my Max like your own. 🐶
This is by far one of the best dog grooming places in Chicago! My morkie looks pristine every single time and smells amazing for weeks- I think they're in there giving those pups facials and everything lol.. I love it!
Starting taking my pup here during the pandemic, great safety precautions. My pup always smells so good after her baths and staff is always very friendly.
This is the only place I will bring my dogs to get groomed. I have tried other places, but nothing has compared to pet a cure. Love the staff, and they do a phenomenal job.. Yes they are a little pricey compared to other groomers but not by a lot AND it is totally worth it..
Final Words
All the pets mentioned above grooming services are trusted and have years of experience. They are verified and certified by CPR and AKC.
With more than thousands of happy clients, their main motive is to continue offering quality services. So without any second thought, choose any of the grooming service providers now.
Also See: Find Best Mobile Dog Groomers Near You by Zip Code