Good grooming is a part of good health, and healthy pets are the happiest. It's time that you gift your lovely furry friends some grooming services in the best pet salons in New York City. Here, we have listed some grooming companies, hire dog groomers according to your preferences. So, contact them now for your dog's pawfect grooming experience.
Best Dog Groomers in New York City
Dogma New York City: Visit here for the gentle care and treatment that your pet deserves.
Snowball's Pets Grooming Salon: Incredible salon with super friendly staff that makes your pet feel at home
Towne House Grooming & Pet Supplies: It is a place where your fluffy one will feel relaxed from inside and beautiful outside. They will surely come out happily and wagging.
Bark Slope Salon NYC: They offer premium services for your little snuffles to get groomed, without making a hole in your pocket.
Bark Avenue Grooming NYC: Your dog deserves the best grooming services and they are proving it since 2016.
Unleashed Spa New York City: It is a wonderful grooming place for your dog with friendly and skilled groomers, you will definitely make your pet regular here
Doggy Stylez Grooming: A must visit salon to make your pets grooming game strong.
Groomingdales NYC: It will be a treat for your doggo as they make them look super fresh and adorable.
1. Dogma New York City
Dogma is an amazing daycare centre to pamper your dogs in New York City. They have a space of serenity, comfort and loving care for every animal. They have a very cooperative staff with the finest service. They provide all kinds of services for pets, including overnight boarding, grooming and spa, training, walking, and classes, and serve your dogs with amazing treats and playgroups.
They also offer premium facial services for your fluffy friends. They have different packs and offers for you to choose from at reasonable pricing. They provide 24-hour care by their certified pack-leaders. They are very welcoming and provide quality customer service to their clients. So if you're looking for a dog groomer in New York City then contact them for great deals.
Hours: Mon – Fri (8 am – 7 pm), Sat & Sun (9 am – 5 pm)
I take my 1 year old puppy here and they do such a great job! He is a terrier mix and has wiry hair texture. Their shiny coat treatment does the trick for his hair type and lasts up to a month!
I have been taking our dog to DOGMA for a variety of grooming, daycare and other needs. The are the very best doggy daycare place in the West Village. The facility is spotless and the owner and her amazing staff are always helpful, friendly and super-professional.
The whole staff is wonderful! Shiro gave my whoodle pup the absolute best cut and didn't just shave him. I will definitely continue going back. Thank you Dogma!!
My pup Dash loves staying at Dogma and playing with his canine pals and cuddling with pack leaders. Great communication, and it's a comfort knowing that my dog is well-cared for, and is having a great time!
Such a great first time experience at Dogma! Suzanne was so thorough with my golden doodles mats and he came out looking amazing! Will be back time and time again for her!
2. Snowball's Pets Grooming Salon
Snowball's Pets Grooming Salon is one of the best sources for providing grooming services to your pets, and it deals in Eye-Ear, Cleaning, Nail Clip, Cut Dry, Bath, Conditioning, Final Cut, Finishing Massage, Nail Clipping, Nail Polishing, Teeth Brushing, Fleas, and Ticks Bath, and Hot Oil Massage.
They have certified groomers and trained washers to provide exceptional services that give great results to your dogs. They provide basic to advanced services, and they have vast experience in dog training and grooming. Groomers take all the safety precautions, the staff wears masks, and hand sanitisers are provided. Contact them for the amazing grooming services and the love and care your dogs deserve.
Hours: Tue – Sat (9 am – 6 pm)
I have been working with these guys since years now! With lots of hard work and timely communication they made sure they delivered the best to me. Highly recommended!
They went out of their way to make friends with my dog before bringing her inside. Listened to what we wanted and did exactly what we asked. Kept us informed and did a great job. Best cut she's ever had and they're great to work with!
They are the only place I would ever bring my dog. They are the nicest people and really want to make my dog happy. She always comes back looking amazing!
Our Frenchie/Boston doesn't mind having her nails trimmed here at all!!! The team works with customers on scheduling and makes sure the dogs are happy and comfortable. Highly recommend!!
They are so good and kind to my little Shih Tzu. She is a difficult dog to groom because of previous trauma she suffered but they do a fantastic job. She always looks beautiful. And she adores them. I highly recommend them!
3. Towne House Grooming & Pet Supplies
Towne House Grooming & Pet Supplies is an experienced dog grooming company providing services for over 40 years. It is an amazing amenity, offering consistently professional services like dog and cat grooming, dog anal gland expression, nail trimming, and walk-in services. They are committed to exceeding customer's expectations, and they also offer best-in-class products and services.
They provide a homely ambience for pets along with personalized care for them. High-quality products are used, proper care of cleanliness is taken, and all types of equipment are sanitized. You can contact them for queries and more detailed information. It is one of the best places to pamper your dogs in New York City.
Hours: Tue – Sat (8:30 am – 6 pm), Mon & Sun (Closed)
http://www.townehousegrooming.com
What an amazing experience! I was dreading taking my rescue to the groomer because she's scared of strangers and uncooperative but the staff here were so friendly and patient. She came out looking great and not a bit stressed. We'll definitely be coming back.
Puppy badly needed a nail trim and they were able to take care of us without an appointment! Very friendly and we were in and out within 5 minutes. Very satisfied!
Have tried several other groomers and Towne House consistently grooms our long-haired Tibetan Terrier much better than the rest. He always looks great no matter the length we cut (Summer or Winter).
I liked the way my little princess looked when I picked her up, but honestly, I feel like I get a more complete grooming at Towne in NY and absent another daily deal from Towne House , this won't be my "go to" grooming salon.
Been taking my cats here for years just love Elly and all her staff. Josh runs the front desk and he is always so wonderful to deal with. My 4 cats get the lion cuts and I buy the litter and wet cat food from the store.
4. Bark Slope Salon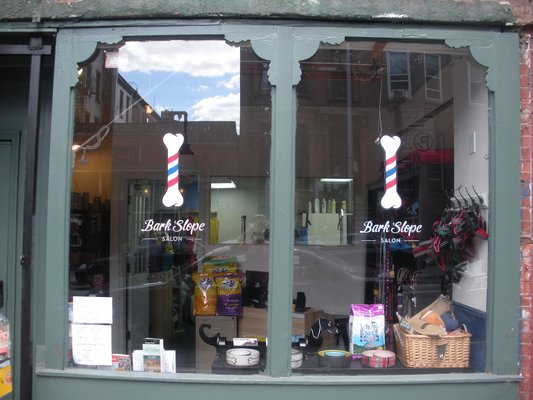 At Bark Slope Salon in New York City, your dog gets all of the exercise and attention they deserve while you are busy battling your day. Their priority is to provide premium services to your pets. They offer grooming services like Warm water bathing, blueberry facial, nail trimming and complementary buff, ear cleaning, gland expression, and complimentary bandana.
You can also add on services like Bang trim, Teeth cleaning, Oatmeal bath, Mud bath and Deshedding treatment. They also offer dog walking services. You can make an appointment for grooming services and dog walking services. The groomers and other staff members are professional and friendly. They thoroughly clean everything, and everyone is masked up. You can call them or fill an inquiry form online to make a reservation.
The Bark Slope team are kind and communicative. I've had a terrible time trying to get my Lagotto groomed properly, as many groomers claim to know the breed but really don't. Gabby, however, has been a godsend. She's a wonderful groomer and really nails this atypical cut.
We've been coming here for like five years now. Always great service here. They treat our dogs with the utmost care and my babies come out photo shoot ready!!
Great place to get your dog groomed. We get our recue pup groomed here. The staff is very understanding and caring. True attention to detail. highly recommend!
The friendliest and most thorough groomers around! My dog had a bath 2 weeks ago and she's still super soft and shedding a lot less!
They were great to work with and my pup has gotten a ton of compliments! Someone actually stopped me on the street and asked where I got him groomed. Prices are competitive and you get a high quality service.
5. Bark Avenue Grooming
Bark Avenue Grooming is a trusted pet salon in New York City. It is a licensed and insured pet grooming company providing services since 2016. They have a team of experienced groomers who are working in this industry for over 15 years. They specialise in offering all types of grooming services from basic to advanced like spa, bathing, nail trimming, flea and tick, teeth brushing, and hot oil treatment.
They disinfect every piece of equipment before use. You can contact them for queries and more detailed information. You can count on their staff for your pet's unique needs as they make sure you get things done exactly the way you desire.
Hours: Tue – Fri (9 am – 5 pm), Sat (9:30 am – 5 pm), Sun & Mon (Closed)
I love this place and my doggo does too! Always looks fresh and adorable. I can tell they work on lots of doodles – because the cut is always on point!
Nazik is a very talented and professional groomer. She loves my dog and is very gentle with him. I know I can trust her and she makes him look beautiful!
Great groomer, the pups came back smelling SO good! My only complain was that they could have remove more 'tears' under the eyes of my baby boy. They also have a discount for new customers and one for paying cash (after your first visit discount only).
Groomers are so kind and professional. Honestly can't find a better deal around. The owners were incredibly sweet, helpful and accommodating. I couldn't be happier.
I just used this groomer the other day and she was wonderful! My dog is a shitzu poodle mix and his haircut was exactly what I wanted and had described to the groomer. If you want a groomer who listens to your instructions and gives a great haircut then this place is for you.
6. Unleashed Spa
Unleashed Spa in New York City is a full-service pet grooming salon. They are the award-winning groomers and have received first place in over 15 awards, including the "Intergroom" Terrior category, "Poodle Challenge" Scissoring category, and "Fun in the Sun" Poodle 2012 in Florida.
Their groomers are well-versed and trained in providing exceptional services: in-house grooming services, full-service pet grooming, natural and organic alternatives, which is an effective treatment method for your pets. They also have self-service pet bathing, where you can groom your furry friends by yourself. They provide exceptional services at reasonable prices. It will be a treat for your dog at Unleashed Spa in New York City.
Hours: Mon – Sun (9 am – 5 pm)
Our puppy never looks more handsome than when he comes out of Unleashed. The staff are incredibly friendly, our puppy loves going there (he honestly drags us there if we walk anywhere nearby) and the whole process feels reliable and professional. Couldn't recommend it more highly!
We've been going to unleashed for 7 years and love it. Our bailey always leaves looking great (and more importantly smelling great). We appreciate everything they are doing during this rough time and hope they are able to continue serving our community!!
I took my 6 month old miniature dachshund puppy here for her first ever grooming and the staff here was AMAZING! Very reasonable prices and such kind staff, this will be my new go-to grooming destination.
Staff is always pleasant and lots of availability for appointments. My dog seems pretty happy walking out of this place 🙂 and he always looks dapper as ever. The groomers are highly talented and patient.
amazing service and great prices! the staff is so kind and you can tell they really care. Shannon did amazing job on my pom.
7. Doggy Stylez Grooming
Doggy Stylez Grooming is the newest and fastest-growing dog grooming company in New York City. They have groomers with over ten years of experience providing the finest services and care that your pet deserves. They have a wide range of services. Their bath and complete grooming services include Nail Clipping, Ear Cleaning, Brush & Comb-Out, Haircut, Oatmeal Bath, Blow out and drying services, and more.
They also offer Teeth Brushing, Flea & Tick Treatment, Nail Polish, and Anesthesia Free Teeth Scaling. Their grooming price varies depending on the breed, size, condition of the pet, and the hairstyle requested. Groomers are fantastic, and they make sure you get things done exactly the way you desire. It is one of the preferred salons to pamper your pets.
Our 8lb cockapoo got her first haircut here and it was so cute. The team here is great and really caring, it is clear that they love what they do. From booking the appointment to picking her up, the whole process was stress free
My dog was given the most remarkable haircut ever! She is unrecognizable. The staff here are kind, patient, professional, attentive, and outstanding groomers. The dogs are treated extremely well and they look even better. I feel like I have a show dog now from her dramatically improved haircut. Highly recommend!
Just adopted a dog and wanted to get him cleaned up. Read great reviews and it was close by so I figured I'd try it. They took me same day and Tom was very sweet and made my 10 month old dog as comfortable as possible. He looks great and I'd definitely go again!
We have a Bernese mountain dog, and he is quite a handful. The groomers at Doggy stylez were so professional and did such a great job! I would recommend them to anyone looking for a local dog groomer.
Love this place. The owner and staff are very kind, caring and they are also very knowledgable on different pet coats + needs. My little pomeranians love getting groomed here & always smell + look great afterwards.
8. Groomingdales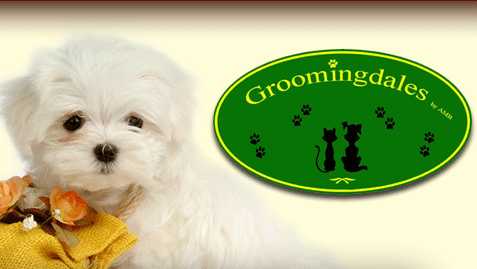 Groomingdales in New York City is a brand new salon with professionally trained and certified groomers having over 15 years of experience. Their priority is to provide the most enjoyable and relaxing experience for your fluffy friend. It is a luxurious salon that offers premium grooming services from basic to advance.
They follow proper precautions for the safety of their clients and staff members. High-quality products are used for providing services, and all equipment is sanitized. You can browse through their website for more queries and schedule an online appointment. Groomingdales in New York City is worth every penny.
Best in the city! The only place I will bring my long haired cat. They are very professional, Kind and always do a fantastic job. Worth every penny for my cat's peace of mind.
I love Groomingdales. I have used them for 2 years for my toy poodle. And poodles are one of the biggest grooming challenges. Owner is very pleasant. And, keeps a database of your preferences for the visits.
Best grooming place in the city. God bless you guys 🤗
Great owner and staff …..always feel comfortable leaving my dog with them ..very very nice people and they do a great job !
I've been talking my Pomeranian for about 4 years here. He always comes out looking great. Would highly recommend this place.