8 Best Child Daycare in New York City – Updated December 2022
Being a parent takes a lot more than imagined. Sometimes, it takes endless sleepless nights, sacrificing one's dreams and making efforts to become the best version of oneself. Everything is focused on the well being of the child. After a certain point of time, parents realize that there is still some time to give wings to their dreams.
Many times they step back, thinking who would take care of their child? The good news is there is a perfect solution for this. Suppose you are looking forward to chasing your dreams and want someone to take care of your child. Then we are here with the list of best child Daycare in New York City. To know more about them, read below.
1. The Learning Experience – Manhattan
The Learning Experience is not just a daycare but a place where children from preschool to kindergarten can be cared for. This is well run and has a team of great teachers who are watching in nature. Honoured with several awards and accolades, this child daycare in New York City has been the first choice of many parents. They have an exceptional educational curriculum that focuses on the child's growth.
The Learning Experience has six stages of early development designed. This includes infants, toddlers, twaddlers, preppers, preschoolers and kindergarten. They follow innovative and creative measures to nourish the child entirely. Children are given a chance to discover themselves in this lively place.
Website & Appointment: https://thelearningexperience.com/schedule-a-tour
Address: 28 Washington St, New York, NY 10004
Phone: (212) 797-1110
Daycare Center Hours: Mon – Fri (8 am – pm)
Moved my son to this daycare after experiencing a terrible one. My son made great progress. I will continue sending my son here to receive the best education and care.
I cannot say enough about the staff and teachers at The Learning Experience. The first day when i went to pick up my daughter they showed me where my stroller was, that sounds small but the personal attention to that detail is what makes this place a safe, fun and family oriented place.
My 3 year son is so happy here. His teachers are excellent and take so much care in handwriting weekly reports home so i know what he's learning each week. The curriculum is also impressive – in less than a month my sign is writing his name and drawing happy faces.
We love TLE! My 4 year old son wants to go to school in the morning… seriously…what beats that.. The staff is great and the other families are awesome. Being a single Dad…. being a part of this community.. makes it just a little easier…
The staff and the directorial team are amazing! My daughter loves everyone there! We could not have picked a better childcare center for our daughter.
Also See: Best Child Daycare Center Near Me | Find By Zip Code
2. Two By Two Childcare Academy


Two By Two Childcare Academy is a certified home daycare in New York City. Here children are taken care of under professionals who are experienced and skilled. Parents can customize the curriculum and fix different schedules as per their demands.
This flexible place believes in making regular interaction with the parents to discuss their child's progression. Two By Two Childcare Academy ensures education through playing and learning. According to them, this is a great way to bring the best out of any child. Also, the fees are affordable enough to meet the needs.
Website: http://twobytwoacademy.com
Address: 418 Keap St, Brooklyn, NY 11211
Phone: (718) 388-5600
Daycare Center Hours: Mon – Fri (7 am – 7 pm)
Two by two was a wonderful place for my son to go to while we worked in nyc. It is clean, safe, friendly, and fun. I fell in love with the art projects they encourage the kids to do! The staff is so grounded and kind. They loved and cared for my son like he was their own. It made me feel safe and happy to take him to school every day, even if he was upset when I left. I knew he was in good hands.
My second child is now enrolled in Two By Two. My daughter attends a local public elementary now and her Prek teacher was so happy with the amount of knowledge that her and her friends came in with. The teachers are lovely. So loving and fun. I'm obviously happy if my second is attending and he loves it too!
My daughter loved this school so much. I did too. The staff were like family. So welcoming and treated my daughter with so much care. Highly recommend this school.
Both of my daughters have gone to Two by Two and have loved it. The teachers are very loving and they learned something new everyday. They are very flexible and accommodating. I highly recommend them.
Our daughter has been going here since she was six weeks old and it's been wonderful. She loves it and we love it. The teachers are engaged, there are fun extras like yoga and music class, and the kids get to be creative and be kids, while learning.
3. The Goddard School of Manhattan
Another well-known child daycare centre in NYC is The Goddard School. Here runs a river of beautiful educational facilities that children can enjoy. They believe in prioritizing the health, safety and happiness of the child before anything.
One can say that they are the foundation that builds lifelong love for learning, friendship and emotional well being. The fun learning environment here is perfect enough to keep your child curious to learn new things. They have an excellent team that go the extra mile to develop the child's personality.
Website & Appointment: https://www.goddardschool.com/schools/ny/new-york/manhattan-murray-hill
Address: 751 2nd Ave, New York, NY 10017
Phone: (646) 809-3555
Daycare Center Hours: Mon – Fri (8 am – 6 pm)
Our son is very happy at Goddard. Facilities are clean and the teachers are very nurturing. We switched day cares recently and so glad we did. The food is all organic and they always offer more food to the kids who are still hungry. They have a gym and soon getting an outdoor area. We get updates on a daily basis and there are planned activities for kids everyday.
The Goddard School is absolutely amazing. My 2 year old daughter has been attending the school cum daycare since it first opened it's doors in Nov last year and we see a huge difference in her skills set already. From her social skills to her learning abilities, all have sharpened tremendously.
Our little guy Kai, has been attending the Goddard School for several months now. Because of the setting that The Goddard School provides, he's continuously learning new things. Through their thematic lessons, Kai grasps many concepts and immediately applies them with us at home.
The Goddard School has been the perfect choice for our son and our family, particularly during COVID. The school has been extremely flexible and accommodating while ensuring that the children and staff are well protected.
We love The Goddard School on 2nd Avenue. Our son is so happy there and the staff are incredible. I highly recommend this to other parents considering day care options.
4. Changing Tomorrow Academy
Just as the name suggests, Changing Tomorrow Academy sees every child as the future of tomorrow. Here the child's development and growth is assured. This is because of the well educated and highly qualified educators who always look for innovative ways of teaching.
They are certified and have a full time registered nurses on-site as well. This home daycare in New York City is inspired by Maria Montessori, which beliefs in supporting every child. They believe when a child is supported the utmost, they become capable of achieving everything in life.
Website: https://changingtomorrowacademy.com
Address: 257 Gold St, Brooklyn, NY 11201
Phone: (205) 701-3333
Daycare Center Hours: Mon – Fri (8 am – 6 pm)
My son has been going to CTA since he was 4 months old, and we absolutely love it there. The teachers and faculty are great and we have had such a positive experience. Would absolutely recommend to anyone in need of a great daycare.
5 stars for Changing Tomorrow Academy! Amazing & professional staff, great food for the kids, and really good creative environment. I am impressed with the learning activities and all the fun activities the kids get to do. They keep us parents well informed, and I warmly recommend this place 🙂
My daughter has been attending changing tomorrow academy for 6 months and we love it! The teachers and staff go above and beyond, the meals are delicious and the indoor play space is a huge plus! We highly recommend this daycare.
Very happy with this daycare/school. They're attentive and always making sure to engage the kids in new and unique ways. Also love that they're building a community for parents – parent meetings, evening workouts (free!). Love love this place!
The director gave me a tour of the classrooms and I was also able to meet the teachers for each class. My child is 3 and we got to meet the preschool teacher, she talked about her room and what a day would look like if we were going to enroll.
5. Sunshine Daycare of East Harlem LLC

Sunshine daycare of East Harlem LLC is a reputed child daycare center in New York City. They follow creative learning techniques to nourish the children for their future. Students are actively engaged here under the guidance of highly knowledgeable teachers. The teachers are pretty polite and friendly too.
This helps them to give birth to their creative personalities and understand the world around them. From infants to pre-kindergarteners, every child is kept under an expert's vision. The environment here is also quite nurturing, secure, educationally enriched and child-friendly.
Website: https://www.sunshinenewyork.com
Address: 1330 5th Ave, New York, NY 10026
Phone: (212) 444-1177
Daycare Center Hours: Mon – Fri (7:30 am – 6:30 pm)
Our daughter has been attending Sunshine since she was 7 months old – she is now almost 2 years old and is in a toddler classroom. We have loved every aspect of Sunshine since the moment we arrived. The teachers and staff are loving and so personable. If we ever need anything they are there for support and are in constant communication about the development of our child.
Our son has attended Sunshine since he was 4 months old, before and after the declaration of COVID-19 pandemic. His teachers have always been very attentive and caring towards him, he loves going there every single day. The directors are very nice and communicative, and have taken every possible measure to keep the children safe while having fun during these challenging times.
Sunshine is amazing! The teachers and staff are incredible and well organized. They teach a real curriculum instead of just entertaining the kids. I've watched my daughter go from not being able to read to being a 4 year old power reader in the last year. Seriously. They are incredible.
Our older son (now 24mo) has been attending since 6mo, and our second son just started a few weeks ago at 4 mo. The caregivers and teachers are loving and caring, and the staff as a whole is extremely open, communicative and cooperative. The communication around the Covid pandemic has been fantastic. The diversity of the student body is a big plus too.
I really love the teachers here and the curriculum. The staff really seems to care about the children. You will have to prep your child's lunch but I like that they let you know what your child ate so at least you know what foods they enjoy. I have had both my daughters attend and they both enjoyed their time at Sunshine.
6. A B Sea Group Family Day Care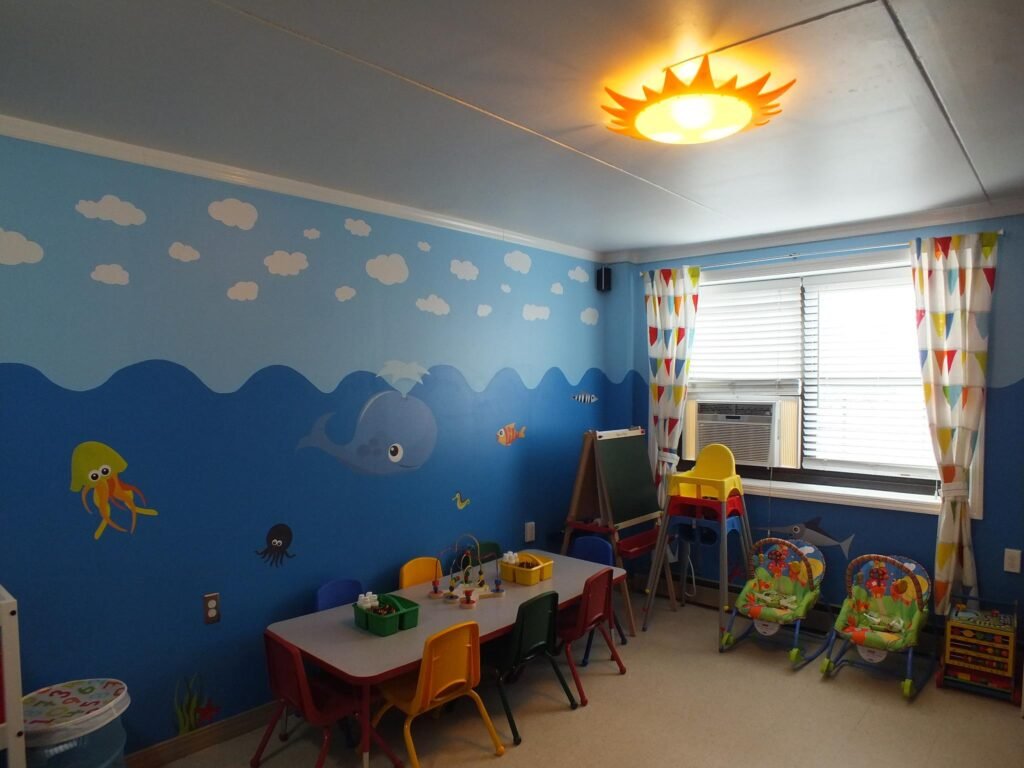 A B Sea Group Family daycare is licensed and famous among the parents. This home daycare in New York City offers different educational curriculums. Some of them include music, art, primary computer, Spanish and more. Besides learning, children are engaged to play on the premises to communicate with other children.
The children are provided nutritious meals and snacks as well from time to time. A B Sea group family daycare never comprises when it comes to the health of the child. This place is perfect for your kid to dive deep into the ocean of learning.
Address: 22 E 112th St #605, New York, NY 10029
Phone: (347) 201-2717
Daycare Center Hours: Mon – Fri (8 am – 6 pm)
We love our daycare! We feel so lucky to have found such an incredible place for our little one. As first time parents that both work, choosing a daycare was a daunting task. But once we met Angel and Eliany we knew that we had found the place for us.
Our family highly recommends AB Sea daycare. One of the things we love the most is that they provide a more personal experience than what you would typically see at a bigger daycare while also providing a daily program and structure for children.
A B Sea Daycare is just fabulous! We used to send our son to Sunshine on 5th ave, which was fine, but not good enough for the money in our opinion so we looked for another option. I loved A B Sea Daycare from the moment I went in. The owner and all the staff are very presentable.
I have taught and mentored Angel Cruz for the past 3 years. As a former student of mine, he has demonstrated integrity, kindness and professionalism on all grounds. I have also seen him work with children, and he is exceptional. He truly cares about their learning environment and wants to contribute to their wellbeing. If you are looking for affordable professional childcare or daycare in new york city, A B Sea Group Family is an excellent choice.
My daughter attended AB Sea daycare and we loved the services they provided. They helped with potty training and she learned so much there. The activity they do with the kids is very educational and has helped her grow. She doesn't attend the daycare anymore because she's in kindergarten but I highly recommend A B Sea.
7. Bright Horizons at Columbus Circle
Bright Horizons at Columbus Circle is another best child daycare center in New York City that you can choose. They are committed to 100% NAEYC, which ensures continuous evaluation and improvement of children. All the educators here are well trained and experienced who go the extra mile while caring for the child.
They provide more than what any traditional daycare has to offer. This means they offer multiple early education programs, which includes infants to kindergarteners. Also, summer programs are organized here for children to have fun and engage with other kids.
Website: https://child-care-preschool.brighthorizons.com/ny/newyork/columbuscircle
Address: 910 9th Ave, New York, NY 10019
Phone: (212) 542-5285
Daycare Center Hours: Mon – Fri (7:30 am – 6 pm)
My daughter has been at this center since early March in the infant classroom. We've really enjoyed our experience, the teachers and administrators are caring and everyone has been very helpful. Each day there are new fun activities for the kids and we're always so excited to see the photo and video updates throughout the day!
I recently went on a tour and the staff was so welcoming and informed about child care. This site will definitely be a top choice when finializing child care for our infant.
We've so enjoyed our time at Bright Horizons Columbus Circle. It gave us a new standard for childcare! My child was mostly in the infant three and infant four classrooms. His teaches were loving and warm. As a new mom I learned so much from them
My son has been at this center since he was 6 months old; he's now entering the Twos program. He was two months premature, so I was extra nervous about daycare. The teachers that he has had have been caring, communicative and thoughtful, and have taught me almost as much as him. They push developmental skills in appropriate ways.
Structured facility, friendly, learning tools and resources that are clearly effective with our son.
8. New York Plaza KinderCare
New York Plaza Kindercare is the most accredited child daycare in New York City. They have a variety of plans and programs available to children of different age groups. All the teachers here are not just well educated but also very friendly. They believe in creating a solid bond with the child before becoming their guide.
From being the boo-boo fixers to excellent listeners, the teachers are also relatively calm. They also have both part-time and full-time care programs arranged for families. The main goal is to create strong confidence in the child's life to achieve anything.
Website: https://www.kindercare.com/our-centers/new-york/ny
Address: 4 NY Plaza Suite 104, New York, NY 10004
Phone: (212) 513-7367
Daycare Center Hours: Mon – Fri (7 am – 6:30 pm)
The teachers are so kind and caring to the students. Both of my children (ages 4 and 1) attend this school, and we've had a wonderful experience.
My son has been attending KinderCare at NY Plaza for more than 6 months so I feel I am in position now to share my experience with fellow parents. I have a demanding career so it is important for me to be able to focus on my work and have peace of mind that my son's needs are met while he is in their care. The staff is conscientious, child-to-caregiver ratio is low, environment is safe and caring.
Our daughter started attending KinderCare almost 3 years ago, when she was 7 months old, and I can't say enough good things about the KinderCare community. We toured a lot of different child care centers in the financial district, and KinderCare was the clear winner.
This is a truly excellent place for your little one. When I arrive to pick up our baby at the end of the day, I love that they share the special moments, like playing with a new toy, practicing crawling, learning a new skill from classmates, or going outside. 
I have a 2 y.o. son who is currently enrolled at CCLC at 4 NY Plaza since Sept. 2013.  He was at another daycare closer to my work until this fall, when he was getting too big to commute with everyday.  I toured many facilities downtown and talked to several different directors at the various sites.  Not until I toured CCLC did I feel I found a new (2nd) home for him!  Leaving my child in the care of others for the majority of the week, is a big decision.
Final Words
These were the top home daycare in NYC that you can choose. They are trusted and chosen by thousands of parents. The teachers are well educated and come from honourable backgrounds.
Children are taken well-care under these daycares. These daycares have proven to be successful in helping children grow. You can entirely rely on these child daycare New York City and freely chase your dreams.