Are you looking for the best Barbers or barbershop in Chicago? Here are our top 8 picks. All these Barbershops are considered one of the best Barbershops in Chicago, with highly skilled professionals turning you into a gentleman every time you walk in.
429 S Dearborn St, Chicago, IL 60605
Funk's barbershop is a modern barbershop with a vintage atmosphere. If you are looking for a barbershop that provides that friendly atmosphere, that cool, hip vibe, Funk's Barbershop is the way to go. The workmen here are highly talented and skilled professionals. The whole team is also very polite, kind and friendly. The types of equipment used are of very high quality, therefore providing you with one of the best experiences.
In Funk's barbershop, walk-ins are welcomed, but they are open to only pre-booking considering the current situation. This barbershop offers basic haircuts, hair coloring, beard trim, head shave, hot lather shave, kids' haircuts, line-up haircuts, and traditional straight razor shave.
In Funk's Barbershop, health and safety measures are being properly taken care of. Proper social distancing is imposed, the staff members are always to be seen wearing masks and sanitization of the customers is also taken care of, and they also provide you with contactless payment options.
Barbershop Hours: Mon – Fri (10 am – 8 pm), Sat (10 am – 6 pm), Sun (11 am – 6 pm)
It is, without a doubt, the best barbershop I have ever seen! I'm picky about who cuts my hair, but I don't mind if someone cuts it because I know it'll be exactly how I want it and how it should be styled for my look. This barbershop comes highly recommended!
They've been getting my haircut here for years, and they've never failed to offer an outstanding service. The team is really polite and kind. They're still distributing haircare products if you want to. I'm very pleased with the service. Highly suggested venue.
Great place to get your haircut done. Highly skilled and polite staff, amazing service. I was recommended this place by my friend and never looked back. They will always do an amazing job.
Aaron and Vince give the best cuts. Aaron is my regular barber and he's honestly the best barber in the city. Everyone is great and friendly. For serious barbers...Funk's Barbershop is the only place to go.
I have to admit that they're good at what they're doing. The barbers aren't dull, they're not arrogant, and they're doing a pretty decent job. The cool aircon at their place and the barbers have excellent musical tastes. They also accept the appointment/schedule basis that is a bonus for me.
1903 S Blue Island Ave, Chicago, IL 60608
Barkers Barbershop is one of the most top-rated barbershops in Chicago. This barbershop aims to provide top-quality services at good prices. It's a place where quality services meet value for money. The atmosphere around here is friendly, and the workmen also are very highly trained professionals.
Services that Barkers Barbershop offers include:-
Haircut (Fade, Taper, Flat Top, Pompadour, Mohawk, Side Part, Undercut, Etc.)

Kids Cut (Kids 10 & Younger)

Single Guard Buzzcut: The same guard used all over the head (No Fading, One Solid Number)

Long Haircut: Hair length touches shoulders or longer 

Beard Line Up: Lining up the facial hair, Trim included (Chin Strap, Goatee, Etc.)

Face Shave: Hot towel & Lather shave w/grain of the hair

Massage Shampoo: Gentle massage & hot towel over the face while shampooing and conditioning the hair. 
Barbershop Hours: Mon – Fri (10 am – 6:30 pm), Sat (9 am – 5 pm)
I went to Kendall and I'm loving the cut I got. I used to get a haircut every 6 months but I was so happy with the first one I got I went back 2 months later. Feeling confident every time I see myself in the mirror. Highly recommend, and good price too.
Long overdue review for the best barber in Chicago. If you come to Barkers you need to ask for Joel. He will take care of you!!! Great convo and always leave feeling like a better person with a clean haircut and on point with the beard shaves.
Went in for a pre-holiday haircut. Cesar and the rest of the barbers at this shop do a great job. They follow Covid-19 protocols to keep everyone safe and still give great haircuts!
Great new place, comfortable atmosphere, the cuts are always clean and professional. Been a client even before the shop was up and it's been nothing but good ,if not better, quality cuts. Owner is a great guy, the other barbers are friendly as well. You won't be disappointed coming here.
Best barbershop I have been to. I get my hair cut with Joel. He takes his time and makes sure everything looks perfect. I have medium length shaggy hair and he cuts my hair with scissors. Highly recommend to anyone looking for a new barber/barbershop.
2641 W Fullerton Ave, Chicago, IL 60647
Founded in 1968, Joe's Barbershop has been serving Chicago for over 50 years, and they have successfully established themselves as one of the best barbershops across Chicago. If you want some fun and banter along with a quality haircut, then Joe's Barbershop is the best place on the list.
Along with good conversation, Joe's Barbershop extends its services to bald fade cut, buzz cut, kids' haircut, shave services, good old school straight razor shave, threading services, and nose wax hair removal services. It's a cash-only shop so, do come prepared. A prior appointment is required.
Barbershop Hours: Tue – Fri (8 am – 5 pm), Sat (8 am – 2 pm), Sun (9 am – 2 pm)
Very much recommended! Last Friday, I was pleased to see your barber cut my hair into a modern one. I was so pleased to see that he completed it instantly and excellently. I will assure you that your barber is such an authority. Five stars for both of you! See you next time, you guys! Cheers for the performance of you!
I am so grateful that I am one of your customers. Just a week ago, I came here again to have my new haircut. I thanked the barber for doing his best in cutting it and made me more attractive. Strongly recommended!
This is hands down the best shop in town. Each barber with their own excellent set of skills and style. Joe Jr. is always a popular chair but I recommend poppa Joe for an old time solid haircut and the feeling that you have been transported to a simpler less stressful time.
I love the ambiance, also the experience was great, and different from my usual cut. Have been getting my haircut here for years and they never ever fail to give an excellent service. The staff is very friendly and polite. They also sell haircare products if you want to. I am super happy with the service. Highly recommended place.
One of the best barber experiences I've had. Joe Jr. Did a great job and was extremely friendly. I will definitely be back whenever I'm in the area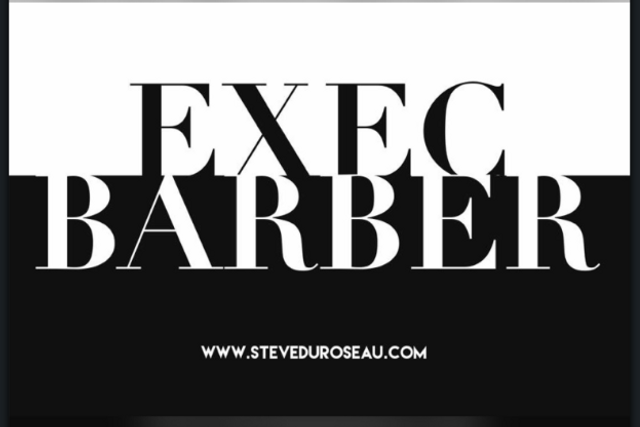 558 W Roosevelt Rd, Chicago, IL 60607
The Exec Room is an executive barbershop that provides complete grooming services to give you a complete gentleman look. Steve Duroseau, the founder of this barbershop, originally started as a neighborhood barber, has now evolved and established himself as one of the top-rated barbers. He has also developed a different approach to grooming which he likes to call "The Executive Approach."
The administrative services that The Exec Room provides include hair services, head shave, hot lather shave, kid's haircuts, neck trim, traditional straight razor shave, along with barber education and barbering education. Appointments are recommended.
Barbershop Hours: Mon – Fri (9 am – 6 pm), Sat (7 am – 12 pm), Sun (9 am – 12 pm)
Steve is a master barber! I have faithfully been a customer of his for years. He gives attention to detail and aims to please. In addition to providing an exceptional haircut, one will be surrounded by a multitude of positive thoughts that are being reflected on his television screen as well as in his conversation.
Always on point and I've never been disappointed. Steve knows how to treat his clients. From the relaxing space(suite)to the personalized service, it is definitely an Executive experience. I Definitely recommend Steve if you're looking for a "grooming" experience. Look good feel good!
Steve is an incredible barber with a keen eye for detail. I have never gotten a haircut that actually looked better as it aged. His ability to cut and transform a variety of hair textures is a testament to his excellence.
The Exec Barber is always on point. Every cut is a instant boost of confident. Shop is always clean and has the right vibes. I recommend Steve to an executive, professional, and anyone that needs to be on their A game daily.
Steve shows great professionalism, communication, and consistency. He is always on time for appointments, and if he is running late, he lets me know ahead of time. The conversations are always great.
5. V's Barbershop- Chicago Wicker Park Bucktown
1632 N Milwaukee Ave, Chicago, IL 60647
If you want a memorable and first-class grooming experience in Chicago, then V's Barbershop is the one you should be looking for. V's Barbershop aims to provide a first-class barbershop experience at reasonable prices that you'll remember for a long time.
V's Barbershop is all about professionalism, quality and clean services. The Barbershop also uses high-quality modern equipment, and they have extremely talented barbers to bring the best out of the equipment. This Barbershop is best for both colleges going students and for business people. A prior appointment is a must.
Barbershop Hours: Tue – Fri (10 am – 8 pm), Sat & Sun (9 am – 5 pm)
The experience was overall a great one! The stylist Esmeralda really took her time with the cut and made sure I was content with the length and look of the hair cut. She was very professional and did an amazing job. I left feeling super satisfied and definitely will be coming back to this location from now on
Just moved into the neighborhood so first try with the hope of finding a good local shop. Jas killed it! Did exactly what I asked and with a great conversation on the new neighborhood and events that were starting to open up with the hopeful end of covid. My new place.
Got a last minute appointment for a haircut at V's Barbershop today when my other barber canceled and couldn't reschedule. Esmerelda was great and gave me a fantastic haircut, just how we discussed it. The shop is clean, cool and professional. Was in and out according to my appointment time. Great place!
Absolutely amazing place. Clean classic barbershop with staff that know what they are doing. I am always hesitant to try a new barber because you never know if they will be good and know what they are doing bu these people are for sure worth a try!!
Was looking for a new barber after a move and gave V's a chance. I specifically went to see Casha after reading another review recommending her. I got the best haircut I have had in a while, and got an entertaining conversation to boot! I will definitely be back!
6. The Civic Opera Barbershop
20 N Upper Wacker Dr #1549, Chicago, IL 60606
The Civic Opera Barbershop is an excellent old school, high-quality barbershop running for over 40 years. The place is most likely to transport you back in time with its old-fashioned scissors cutting and old cash register. The founder Sam, has been grooming celebrities for over 45+ years and is considered one of the best in the business.
With its team of professionals, The Civic Opera Barbershop provides one of its customers' best experiences and hospitality. They provide basic haircuts to hot lather shaves along with beard trims, mustache trims and children's haircuts. Walk-ins and appointments are accepted.
Barbershop Hours: Tue – Fri (7 am – 3 pm), Mon (7 am – 2:30 pm), Sat & Sun (Closed)
I didn't know I was getting a hair cut by a legend. Reasonable waiting time as I showed up unannounced, lovely staff, and most importantly I got my money's worth. I had a great experience, and will come again.
I've been going to this barber for 15 years and didn't realize how much I missed it until WFH during covid. They are open for business and it has been great getting downtown and using them again. Fantastic service and quality and great people. Can't recommend them highly enough.
Found it via Google and I am so happy I did. Walked in and was greeted by Sam. He gave me a great haircut and an absolutely phenomenal shave. He is a wealth of Chicago knowledge as well. Definitely head over there and treat yourself to something real and not some fake new nonsense.
This is my new place to get my hair cut after 4 years in Chicago. Sam is old school and relies on the scissor cut, a lost art. I also learned the name of the haircut I get - The Princeton - for better or worse! I will be back and recommend this establishment.
Stumbled upon the the Civic Opera House Barber Shop when I was downtown in a pinch for a haircut a few months ago, and Sam did a stellar job. I have been coming back ever since and enjoy the great conversation and stories.
7. Handcrafted Barbershop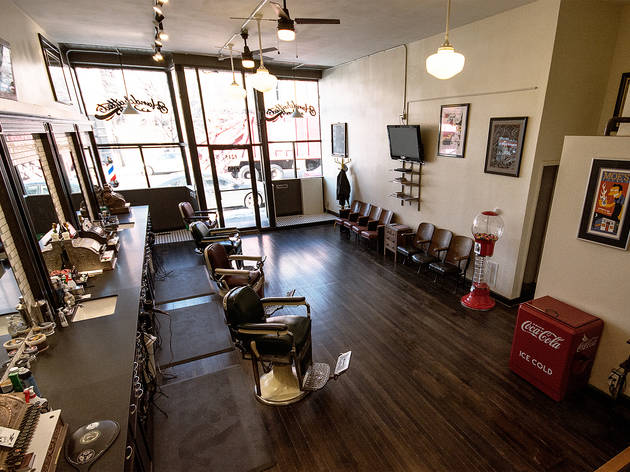 1215 W Grand Ave, Chicago, IL 60642
If you are looking for a fancy salon and barbershop in Chicago, this will be your perfect choice. Opened in 2014, Handcrafted Barbershop is already considered one of the best in Chicago.
With five of Chicago's best-certified barbers, you can expect nothing less than a top-notch service and grooming. In this barbershop, experts specialise in beard trim, haircut, shave, hair & shave combo, and many more. It's a cash-only barbershop, and an appointment is necessary.
Barbershop Hours: Tue – Fri (10 am – 6:30 pm), Sat (9:00am – 3:30pm), Sun & Mon (Closed)
Highly recommend this shop. I went to four other barbers before finding Handcrafted. I'm very picky about my haircut, and they hit the nail on the head. Great work Each barber there is extremely talented and the business has great vibes. Very welcoming crew.
Been going here since they opened, and getting my haircut before with these guys at their previous establishment. Travis Isaac and Doug are all great guys and do a great job. Good atmosphere with the conversations, music and what's on tv. Online scheduling makes things a breeze.
I really admire the barbershop owner and the rest of the staff! This is a great place full of talented and professional people. If you are needing a really good haircut, just go and visit this barbershop! Keep it up!
This is the best barbershop in Chicago and probably most parts of our country. Isaac is easily the one of the best barbers in my experience. If you can get an appointment, do yourself a favor. Don't be late!
It was my colleague that suggested this barbershop to me. They had an affordable service. They had met my expectation as to what haircut I wanted to achieve. Thank you!
8. Goodman's Barber Lounge
443 W Chicago Ave, Chicago, IL 60654
Goodman's Barber Lounge is one of the most top-rated barbershops in Chicago. It's a high-end barbershop but at affordable prices. This barbershop aims to bring back the good old days and provide the best in class to make you look and feel best.
Goodman's Barber Lounge offers haircut services and full straight razor shaves, pedicures, manicures, facials, shoe shines, and more. They also claim to make you feel at home with their friendly staff and home-like decor. So what are you waiting for? Get your appointment done right now.
Barbershop Hours: Mon – Sat (8 am – 10 pm), Sun (8 am – 7 pm)
I just recently moved back to Chicago and was in desperate need to find a great. Sam did an amazing job with the hair and my beard trim as well. Definitely recommend this location overall.
It was a great haircut. I had no doubts while the barber was doing my son's haircut for he professionally did it. My son was just behaving and enjoyed the time. Thanks for treating us like a family.
I love going to get my haircut at Goodman's. I love their "old school" barbershop look and feel. Everyone is professional, products are great quality and Go see Anthony, he's a cold dude and will give you a great haircut!
Goodman's is phenomenal! Shout out to Yousef for taking his time and doing a great job on my first visit. I will definitely recommend this shop to my friends and will be back soon! Thanks again to everyone at Goodman's.
Sam is a great barber and also is a humble dude. He will listen to your requests and put his time and effort into fine tuning and making your haircut specifications a reality.